There's way more to tequila than shots with lime and a line of salt, discovers Nicky Pellegrino.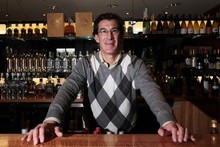 The best way to drink tequila? Well, you lick some salt, knock back a shot glass and then suck on a lime wedge. Repeat at regular intervals and wake up the next morning unable to move your head and swearing never to touch the stuff again.
That's how it works isn't it?
Er, no. This is in fact the kind of attitude Mexican tequila ambassador Ruben Aceves is working hard to change. In Auckland last week to host a tequila-tasting dinner at Dallow's Restaurant in Sale St Bar, he represents artisan tequila maker Herradura, which has produced its premium spirit from fermented agave juice in the same traditional way since 1870.
Aceves admits Mexico's favourite beverage has an image problem.
"Unfortunately, pretty much every college student gets drunk one night with shots of tequila and that tends to be their memory of the drink," he says.
"So we do have a way to go to place tequila where it should be. But perceptions are changing rapidly and as far as sales are concerned it's the fastest growing category in the world - increasingly popular in New Zealand for instance. People like tequila. They're beginning to understand it's not about shots with lime and salt.
There's so much more to it."
Shooter fans tend to get blotto on the cheaper tequilas that contain other sources of alcohol besides agave and often have caramel added for colour and flavour.
A quality tequila such as Herradura is made from 100 per cent blue agave and goes through a painstaking process before it is poured into a glass.
It takes seven years to grow the plant in the first place. Then it's harvested by hand, steam-cooked in a giant oven, milled, fermented, distilled and possibly aged. After all that effort the only decent way to drink it is to sip slowly.
"Many Mexicans will pour tequila into a shot or cognac glass and then sip it like a brandy or whisky," Aceves explains. "In Mexico we drink tequila before lunch and dinner, with lunch and dinner, and after lunch and dinner."
A good tequila changes in complexity and colour depending on how long it's been aged. The youngest, blanco, is an almost clear liquid with citrus notes and fresh agave flavours. It goes well in many cocktails and matches light foods. At Dallow's it was served with a snapper and scallop cerviche.
Reposado is the next stage. This style of tequila is the most popular in Mexico and is rested in barrels for at least 60 days so the flavours of oak, vanilla, and cinnamon start to develop. Aceves advises matching it to main courses such as chicken, pork or pasta.
Anejo is aged for at least one year and its richer flavours combine well with slow-cooked meat (at Dallow's they served a fall-apart ox cheek braised in coffee).
And the deeper gold extra anejo stays in the barrel for three to four years until the flavours deepen with chocolate, orange, pepper, clove and more oak on the palate. Herredura's Seleccion Supreme tastes more like a fine cognac than a tequila and can be matched with dessert or drunk after dinner.
Aceves stresses that only the ageing process should change the flavour. The liquid in the bottle is exactly the same blend of lowland and highland agave, processed in the same way.
"So if you don't start with a good blanco you won't end up with a good anejo," he points out. "The nice thing about tequila is you can pair it with just about anything. You just have to find the right tequila to match each dish. It's exactly like wine in that respect."
Although shooters are clearly the work of the devil, mixing tequila into a cocktail is acceptable so long as you don't choose a cheap, nasty one.
"When you're mixing a margarita it makes a big difference which tequila you use," Aceves explains. "A blanco works best with the traditional margarita of fresh lime juice and sugar syrup. But if you're using cranberry or mango juice then you could move on to an anejo."
He enjoys seeing bartenders get creative with tequila, but says that in the comfort of their own homes Mexicans prefer to keep things simple, commonly mixing it with ice, Coke and sparkling water in a highball glass. Or into a drink called a Paloma that is essentially tequila blanco, grapefruit soda and maybe a wedge of lime.
As for the hangover, if you drink a premium tequila slowly then you should wake free of one the next day. "It's no stronger than any other spirit," Aceves points out. "If you shoot eight vodkas tonight you'll feel awful tomorrow. So don't blame it on the tequila, it's the way we perceive that it's supposed to be drunk."
Aceves has enjoyed a glass of tequila before lunch every day for the past 36 years. "I pour a glass of my favourite blanco and sip it accompanied with a few olives, a little cheese, a cracker. Delicious."
By Nicky Pellegrino