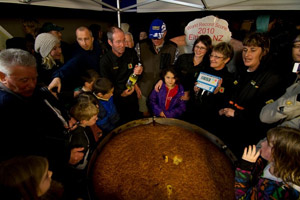 The small Taranaki town of Eltham set a very big world record yesterday.
The town's business association baked the world's largest scone, weighing in at just over 120kg, the previous record was 60kg.
The scone, baked in a purpose-built oven, took seven hours to cook - two hours longer than expected.
Bakers were confident of toppling the record after baking a 70kg scone during a test run two day ago, the Taranaki Daily News reported.
Eltham Four Square owner Shaun McCarthy said the readings from three adjudicators would be sent to Guinness World Records.
- NZPA