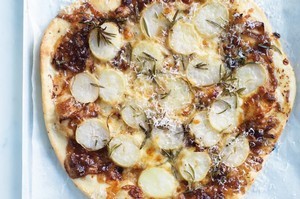 Makes 4
1 quantity basic pizza dough
1 cup store-bought caramelised onions
2 cups grated mozzarella
1 Tbsp rosemary leaves
400g baby potatoes, boiled and sliced
1/2 cup finely grated parmesan
Olive oil, for drizzling
Sea salt and cracked black pepper
Finely grated parmesan, extra, to serve
1 Preheat oven to 220C. Prepare 1 quantity basic pizza dough.
2 Divide the dough into quarters and roll out on a lightly floured surface to 22cm make round bases.
3 Place bases on baking trays lined with non-stick baking paper. Divide the onion, mozzarella, rosemary, potato and parmesan between rounds. Drizzle rounds with oil and sprinkle with salt and pepper.
4 Bake for 10-15 minutes or until topping is golden and the base is crispy. Top pizzas with extra parmesan to serve.