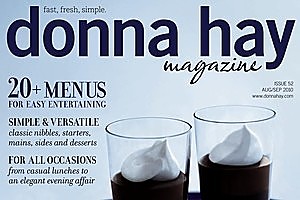 Donna Hay magazine cover Aug/Sep 2010. Photo / Supplied
Making your own pizza is easy and a great way to get the whole family involved in dinner. Don't be daunted by making your own dough, even with the smallest amount of effort, you will be rewarded with fresh and delicious pizzas that will fill the kitchen with an irresistible aroma. Add your favourite toppings and let everyone make their very own creation.
Tips and tricks
Keep pizza bases in the freezer for quick meals. Roll the dough out and layer between sheets of non-stick baking paper, cover in plastic wrap and freeze for up to 1 month.