Herald on Sunday rating: 4/5
Address: 46 Customs Street East
Phone: (09) 302 1109
Open: Seven days from 11am
Website: spago.co.nz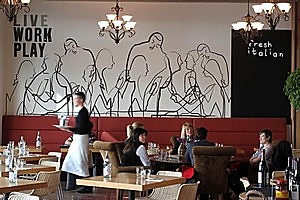 Macaroni cheese is the ultimate comfort food. My mum's - God rest her 40-minute-broccoli-boiling soul - was never sloppy enough, and those curly slices of dried-out tomato on top stuck in the teeth, and it was always a wodge rather than a deliciously cheesy white slush that called for a spoon.
Fortunately, Fa'a Seleganiu, the chef at Spago, did not take macaroni cheese lessons from my mum. His version, my starter, is like a thick soup, in which the pieces of pasta are swamped in a three-cheese sauce made tangy by the fact that one of the cheeses is a very stinky gorgonzola. As I licked the spoon, I was infused with the feeling I get when I go to bed with a book on a winter afternoon.
Spago had slipped right under the radar, perhaps because it's in a part of town I steer clear of for fear of glimpsing those hideous Scene apartments. It's a cheeky name, Spago, the kind to make LA lawyers start sending "cease and desist" letters on the basis that it may be mistaken for the place in Beverly Hills where Hollywood gossip starts and deals get done.
It's the latest enterprise of David and Harbans Williams whose Relish Group took a bit of a pounding during the recession - several of its businesses are in liquidation. But these foodie veterans are obviously up for it, if Spago is any guide.
The restaurant, which has been handsomely and plainly fitted out, with an alluring all-glass frontage, merges seamlessly into a corner cafe called General Store. There are plans for an oyster bar. It promises a welcome renaissance for an area with a proud gastronomic history (the fondly remembered Clichy was just around the corner) and most places would kill for the numbers Spago was doing the Tuesday evening we were there.
The website bills it as "all-day Italian" and if the chef's Fijian origins have you sniffing about authenticity you should consider that most of the handsome swarthy types in the kitchens of Auckland's Italian restaurants are from a part of the world that was once called Yugoslavia.
We passed over an inventive list of antipasti (grilled asparagus with fried egg; carpaccio of kingfish with radish) to start with a couple of pasta dishes. Apart from that macaroni, there was a ricotta-and-spinach ravioli. The Prof complained that the handmade pasta was underdone, which just shows how wrong she can be; it was deliciously al dente, if perhaps a little thick, and the buttery sauce, infused with sage, was a treat. The Prof's mate, a local and a coffee regular next door, was very happy with a salad of cured salmon which was "nicely underdressed", as she put it, and fragrant with fennel.
A small pizza list which keeps it simple and smart was tempting but I had my eye on the mains, specifically a jolly fine osso buco with a pecorino mash and roasted artichokes. The two women went for the fish which had nice Italian touches - the snapper came with cockles and olives.
There are some irritations: crockery that's more showy than practical; the absence of Italian wine by the glass (soon to be remedied); and our waiter was a bit more familiar than efficient. But the food was as good as the Williams have encouraged us to expect - hearty and full of, er, relish.
THE BILL
$216 for three
Pasta and risotto: $17-$27
Salads: $12-16
Pizzas: $17-$23
Mains: $26-$29
Desserts: $12-$14
Water: $11
Wine (one bottle): $44
Ambience: Fresh and bright
Vegetarians: Spoiled for choice
Watch out for: General Store next door
Bottom line: Worth exploring