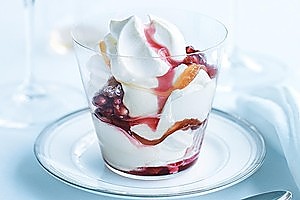 6 store-bought meringues, crushed
6 squares turkish delight, chopped
2 cups pouring cream, whipped
1 pomegranate, juice and seeds reserved*
1 Place the meringue, turkish delight and cream in a large bowl and gently fold until just combined. Divide the mixture between 6 x 1 cup-capacity glasses and layer with the pomegranate juice and seeds. Makes 6.
* Cut the pomegranate in half, squeeze the juice and scrape seeds into a bowl.