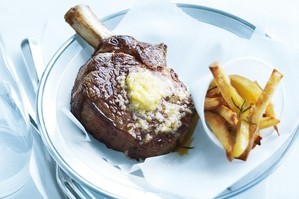 Serves 4
1kg starchy potatoes, peeled and sliced
1/4 cup olive oil, plus extra, for brushing
Sea salt and cracked black pepper
4 sprigs rosemary, leaves picked
4 x 300g beef rib-eye steaks
Horseradish butter
50g butter, softened
1 clove garlic, crushed
2 tsp store-bought horseradish, grated
1 To make the horseradish butter, place the butter, garlic, horseradish, salt and pepper in a bowl and mix to combine. Place on a sheet of non-stick baking paper and roll into a log. Refrigerate.
2 Preheat oven to 220C. Place the potato, oil and salt on a tray and toss to coat. Roast for 30 minutes. Add the rosemary and roast for a further 5 minutes or until potato is golden.
3 Brush steaks with oil and sprinkle with salt and pepper. Heat a chargrill pan or barbecue over high heat and chargrill or barbecue the steaks for 3 minutes each side for medium or until cooked to your liking.
4 Top steaks with horseradish butter and serve with rosemary chips.