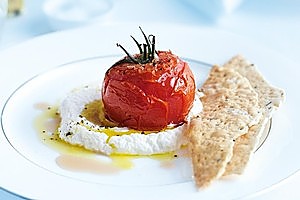 Serves 4
4 vine-ripened tomatoes
Olive oil, for drizzling
Sea salt and cracked black pepper
200g goat's curd
Lemon-flavoured or extra-virgin olive oil
Red wine vinegar and toasted flatbread, to serve
1 Preheat oven to 200C. Place the tomatoes on a baking tray, drizzle with oil and sprinkle with salt and pepper.
2 Cook for 10-15 minutes or until tender.
3 Divide the goat's curd between plates and top with a tomato.
4 Drizzle with the lemon-flavoured oil and vinegar and serve with flatbread as a starter.