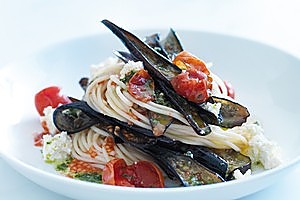 Serves 4
400g spaghetti
500g finger eggplants, sliced
4 cloves garlic, peeled
3 Tbsp olive oil
Sea salt and cracked black pepper
500g cherry tomatoes
150g ricotta
Store-bought pesto, to serve
1 Cook the pasta in a saucepan of boiling salted water for 10-12 minutes or until al dente. Drain, set aside and keep warm.
2 Preheat oven to 200C. Place the eggplant, garlic, oil, salt and pepper in a bowl and toss to combine. Place on a baking tray lined with non-stick baking paper and roast for 25 minutes, add the tomatoes to the tray and roast for a further 5 minutes or until eggplant is golden and the tomatoes are soft.
3 Squeeze the garlic from its skin and add to the pasta with the eggplant, tomatoes and ricotta and gently toss to combine. Top with pesto to serve.