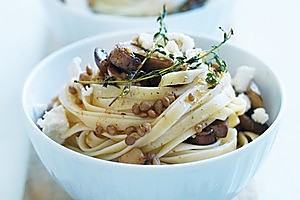 Serves 4
400g fettuccine
2 Tbsp olive oil
80g butter
550g mixed mushrooms, thickly sliced
2 cloves garlic, crushed
1 Tbsp thyme leaves
1 cup chicken stock
1 x 400g can brown lentils, drained and rinsed
180g feta, crumbled
Sea salt and cracked black pepper
1 Cook the pasta in a saucepan of boiling salted water for 10-12 minutes or until al dente. Drain, set aside and keep warm.
2 Heat a large non-stick frying pan over medium heat, add the oil, butter, mushrooms, garlic and thyme and cook for 2-3 minutes or until golden. Add the stock and lentils and cook for a further 2-3 minutes.
3 Add the mushroom mixture, feta, salt and pepper to the pasta and gently toss to combine.
Tip: Use your favourite mushrooms for this dish. Try using button, Swiss brown, field, oyster and portobello mushrooms.