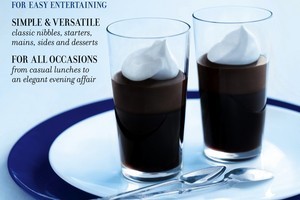 Simple and satisfying, a generous bowl of pasta is just the thing to feed the family in a flash. Tossed with flavourful vegetables, cheeses and meats, these robust recipes are sure to please. Try a rustic mushroom and feta fettuccine, fresh tomato and eggplant spaghetti or creamy penne topped with crispy pancetta. You'll wish you'd made enough for leftovers.
TIPS AND TRICKS
Non-stick. When cooking pasta, don't add oil to the water as it will only make your pasta oily. To ensure your pasta doesn't stick together, gently separate with a fork once in the water.
Keep warm. To keep your cooked pasta warm, return the drained pasta to the saucepan and cover with a clean tea towel and saucepan lid.
The tea towel ensures the steam remains trapped inside.
Mascarpone is a mild Italian cheese. It has a subtle flavour and is available from supermarkets and delicatessens. You could use ricotta.
The blues. You can use any blue cheese for the cheesy leek and pancetta pasta, such as stilton, roquefort or gorgonzola.