Herald on Sunday rating: 3/5
Address: 101-103 Customs Street West, Viaduct Harbour
Phone: (09) 363 2106
Website: ohagans.co.nz
Open: Seven days from 8am till late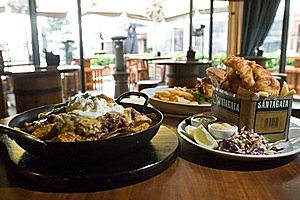 Is there a place where you can buy an Irish pub off the shelf? Maybe you can order online, selecting the features you want in the same way that you pick a computer's specs in a virtual store ("Will that be the Gaelic football jerseys you'll be wanting or the jukebox that plays only The Corrs?") and the kitset pub arrives in a container a week later.
The one thing you know when you're in an Irish pub is that you're not in Ireland; the place is just too Irish for that.
We weren't even meant to be here, my mate and I. We were meant to be at the Imperial Bar next door. Well, to tell the whole truth, we were meant to be thigh-deep and shivering in a river down south as passing trout laughed at us. But some seriously crap weather had got in the way of that plan, so we'd decided on a boys' night out.
I checked out the Imperial's swish website (which told me that it was $10 Martini Monday) and gave them a call. A recorded voice exhorted me to come on down but, no matter what button I pushed, I couldn't get a real person to take a booking.
"It's probably pumping and they're too busy to answer the phone," I told myself. But when we got there, it was cold and dark and boarded up. No doubt they have their reasons, but changing the answerphone message and the website wouldn't have killed them, would it?
As the rain trickled down our necks I made an executive decision to go in the nearest open door. And so we found ourselves in O'Hagan's, perched over a couple of pints of Kilkenny with the well-thumbed menus beside us.
O'Hagan's is no worse than any other Irish pub in terms of trading on the clichés, unless you consider the name a cliché in itself. But the fact that it, like Danny Doolan's along the road in Quay St, is part of Simon Gault's Nourish Group (Euro, Jervois Steak House, etc) bodes well.
The hearty menu has probably not been designed with vegetarians in mind - the best main-course option might be ordering the giant pork chop and mash and asking them to hold the pork chop - but it promises smoked provolone on the nachos and "a hint of truffle" in the pumpkin soup, suggesting it might be a cut above the average.
And so it - sort of - proved. We shared a plate of juicily marinated grilled prawns which had been usefully spatchcocked, making them easy to peel (although applying the name "Caesar" to the accompanying salad of dry and bitter green leaves was a bit rich).
Andrew was profoundly impressed with his fish pie - big chunks of hapuku in a creamy citrus sauce and with a big helping of mash. And I had no complaints about a sensationally executed Scotch fillet, although the pallid fries and warmed-over spoonful of mushrooms let the dish down.
In all, this is a place that gets the main things right and slips on the details.
I did like Biddy, the woman at the bar, who tried to charge me $1.10 and was most grateful when I pointed this out. I peered at her next attempt and told her it was $11,000. "Aw, feck off," she said with a smile as wide as the Irish Sea. So we did.
THE BILL
$110 for two
Grilled prawns: $18.50
Scotch fillet: $29.50
Hapuku pie: $22
A few pints, to be sure: $40
Ambience: Hibernian
Vegetarians: Wedges, fries and soup
Watch out for: Sport on TV
Bottom line: Slainte