Facials these days are fit for all fancies, with many different experiences on offer.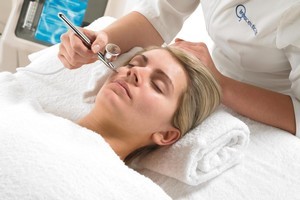 Going for a facial has long been about lying back and enjoying the application of cosmetic creams with a light massage, then leaving looking fresher and firmer of face. These days the aim is still the same, but increasingly the methods are stretching the definition of what a facial actually is.
There's now everything on offer from acupuncture facials to machine-based treatments, or how about a product-free version? Viva editor Amanda Linnell sampled one of these recently and I've been trying other options to see what else is out there besides traditional and aromatherapy facials. All the facials we've included either use products or a good degree of massage - sometimes with unusual delivery mechanisms such as airgun nozzles and metal rollers.
If there's any common thread among them, it's that a simple slip, slap, slop no longer seems enough.
Jude Luke, owner of The Elements day spa in Birkenhead says women are "looking for a facial that leaves visible results". She likes to mix machine-based treatments, including Elos skin-tightening, light therapies and traditional French skincare, to produce individualised treatments.
Of course, any good facialist should tailor treatments to suit the skin and changing concerns of each client. At this time of year that often includes dealing with hydration and pigmentation. As a client, it pays to seek out a treatment style that suits your personal inclinations, looking for effectiveness but also enjoyment.
Oxygen effect
Make like Madonna with an oxygen facial. The singer owns three machines and takes one on tour to plump up pre-show.
This Intraceuticals treatment starts with a traditional cleanse with the Australian firm's products, but the main event is the curious sensation of what feels like suction, but is actually infusion. A little nozzle works over one side of my face and neck, pushing out an appropriate infusion.
Hyperbaric (above atmosphere pressure) oxygen adds a cooling, calming effect and generates a pressure bubble to help saturate skin tissue with what in my case is the pigmentation-targeting Opulence infusion, containing hyaluronic acid for moisture retention, to brighten and lighten. (There are anti-ageing and clarity options also). I inspect what therapist Liza has done, and, yes, the treated side looks and feels fuller, with frown lines somewhat reduced. I'm evened up, and a friend later remarks how fresh my skin looks. I agree and am impressed that the improvement lasts more than a facial's usual day or two.
Repeat dousings are recommended, with visible results said to extend over time, but the oxygen facial also works as a one-off treatment for special occasions. (As with any treatment before a big event, a trial is a good idea, although this facial has a lower risk of breakouts than other richer or aggressive ones.)
If I was a Material Girl with assistants to spray my furrows away, I'd buy into this regularly.
* An Intraceuticals oxygen facial costs from $140, depending on salon provider. Courses of six facials, with at-home skincare packs cost around $950. (We went to the Beauty Lounge, 408 Lake Rd, Takapuna, ph (09) 488 0498). Ph 0800 725 660 or see intraceuticals.com for a salon in your area.
Product free
When a friend tells me at lunch that my skin looks amazing, I put it down to the facial radiance massage I've just had with therapist Lynda Davenport. This unique treatment involves no lotions or potions but relies entirely on massage. For an hour, Lynda gently kneads my face and scalp, focusing particularly on the jaw area around the mouth and eyes. All areas where we hold our stress.
Not only do I love the fact that my face is not being overloaded with product, the treatment is incredibly relaxing. It also works on the meridian and muscles of the head and face, releasing the tension held at deeper level where the connective tissue is composed of cells, collagen and elastin fibres. Releasing tension allows the goodness to flow to the skin cells, helping the skin to hydrate as well as the muscles to relax and lift.
Over time, Lynda says fine lines diminish, skin looks less tired and becomes fresher, more toned and radiant. She has worked in natural beauty and energy healing for more than 15 years, mainly in Sydney where her clients included international celebrities, and says the technique was first introduced by Stanley Rosenburg (of the face-lifting massage fame)
* One facial costs $90 per hour; Lynda recommends a series of five for $395 for maximum results. 5 Blake St, Ponsonby, ph 021 2 252 253 or go to facialradiance.co.nz.
Analysis first
Facials shouldn't be a one-size fits all process, and to ensure they're not Dermalogica has relaunched its free Face Mapping service. Clients get a detailed breakdown of 14 different zones of their skin from which recommendations for treatments and products are made. The whole process can be done in around 10 minutes and your prescription is kept on file. Dermalogica also offers both tailored facials and shorter micro-zone treatments for specific areas of concern.
* Face Mapping is available from Dermalogica Skin Centres in salons and at Dermalogica, Westfield Albany. See dermalogica.co.nz or ph 0800 433 762 for your nearest skin centre.
Lap of luxury
With what seems like half a pottle of La Prairie's $500 cream being massaged into my eye contour area, I'm thinking this facial is probably pretty good value.
La Prairie is a super-premium brand in the beauty industry, and Face Facts in Remuera is the only clinic in the country authorised to do its facials. Owner Gill Brown has worked with La Prairie overseas and knows the standards the Swiss company sets. She delivers a finely tuned facial that goes way beyond just piling on the pricey anti-ageing products, which contain the likes of caviar and platinum.
I enjoy a generous back massage and attention to my decolletage, and get advice on my needs without any product push.
My skin gets a good glow, and looks firmer for days around the eyes. This facial will appeal both to La Prairie devotees and those others of us who can't afford a cabinet-full, but would like a little touch of luxury.
* A La Prairie facial costs $220 at Face Facts Beauty Therapy Clinic, 182 Great South Rd, Remuera, ph (09) 524 2354.
Machine-based
Two sets of little prongs are walked across the face picking up skin like pairs of chopsticks. A barely discernible micro current is emitted, stimulating cells that form the muscular tissue of the face. Skin is left feeling firmed and freshened, and over time this treatment is said to re-educate muscles positionally. Fibrolast cells which produce collagen are apparently being prodded into action and protein synthesis improved, helping overall rejuvenation.
The sensation is odd, but not unpleasant; what I hadn't expected was that the rhythmic motions of the cotton-tipped wands passing across my face would lull me close to sleep.
Firstly, my skin was cleansed, with Jude Luke of The Elements digressing to offer a little microdermabrasion and brow tidying before an enzyme complex was worked across the face. This was followed by the march of the chopsticks which is at first slow, then steps up in pace, before relaxing feathering movements to aid lymphatic drainage follow. As an add-on, a hydro gel smoothing mask applied with metal rollers can finish the treatment, which is also available in a form specifically for the wider eye area and forehead.
Afterwards my skin looks smoother and "picked up" especially around the jowls and the cheeks, with the naso-labial folds less deeply etched.
* The CACI non-surgical Face Lift is priced from $140 at The Elements Medi-spa & Beauty, 221 Hinemoa St, Birkenhead, ph (09) 480 7563. theelementsspa.co.nz (CACI medispas also offer this treatment.)
Oil only
Oil is the soothing emollient at the heart of the Hema skincare range, and for its facials, massage touching on trigger points is used.
A Hema facial is indeed relaxing, and obviously a little oily, but the base ingredient, organic avocado oil, absorbs supremely well into the skin. No waters or creams are used in the products and there's no scrub either, as Hema considers exfoliants unduly harsh on skin. The facial is an aromatherapeutic experience, with essential oils, a manuka mask, and totarol, from the totara tree included in the oils for its antioxidant and antibacterial properties.
Auckland's only Hema therapist, Seonaid Lyons, is a yoga teacher and massage therapist who persuaded Margaret Hema to train her up to become one of the handful of holistic Hema facialists worldwide. She offers her services from a small room in a Grey Lynn wellness centre.
* A Hema facial from Seonaid Lyons costs $120, ph 021 369 642, hemaproducts.com.
Seasonal special
French salon line Sothys has an extensive range of skincare, catering for all skin conditions and ages, and a digi-pressure massage style that aids lymphatic drainage. It also offers facials suited to the seasons, with the autumn-winter one blending fig, cedarbark and sandalwood. The softening, brightening facial includes a full cleanse and exfoliation, and a relaxation massage while an algae mask does its work. You'll leave feeling at one with the wintry world and with a small serum to use at home.
* To find a Sothys salon in your area ph 0800 SOTHYS or see sothys.co.nz
(Exhibit Beauty, 1/2 Claude Rd, Epsom, ph (09) 630 2412, is Sothys salon of the year and offers the seasonal facial for $115.)