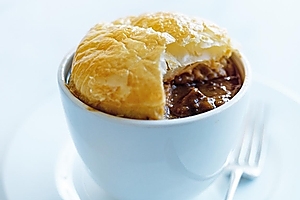 Serves 4
2 Tbsp olive oil
1kg chuck steak, diced
2 onions, peeled and sliced 4 cloves garlic, crushed
3 Tbsp plain flour
1 litre beef stock
2 Tbsp Worcestershire sauce
2 sheets store-bought puff pastry, thawed
1 egg white, lightly beaten
1 Preheat oven to 200C. Heat the oil in a large heavy-based saucepan over high heat. Cook the steak, in batches, for 4-5 minutes or until browned. Set aside.
2 Add the onion and garlic to the pan and cook for 4-5 minutes or until softened. Sprinkle with flour and cook, stirring, for 1 minute. Return the beef to the pan with the stock and Worcestershire sauce. Stir to combine.
3 Reduce heat to low, cover with a tight-fitting lid and cook for 1 hour and 15 minutes or until the meat is tender. Spoon mixture into 4 x 2 cup-capacity ovenproof dishes. Cut 4 x 11cm rounds from the pastry and use to top pies. Brush pies with egg white and bake for 20 minutes or until puffed and golden.
TIPS AND TRICKS
Beat the cold. Robust pot pies are the ultimate cold weather dish. You could substitute the beef for lamb or veal in this pie and even add diced carrots, mushrooms or peas for extra flavour.