Herald on Sunday rating: 2/5
Address: 582 K Rd, Newton
Phone: (09) 361 6789
Dinner: Seven nights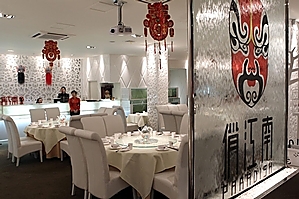 The website restaurantfinder.msn.co.nz says Paradish doesn't take bookings, is no good for groups or children and is not wheelchair-accessible. All of these things are untrue.
The website also says that it doesn't do takeaways or deliveries (which I suspect is true) or have outdoor seating (which is certainly true).
So, setting aside the restaurant's name, address and phone number, which you sort of expect it to get right, at least four out of seven pieces of information that it supplies are wrong. And they call this the Information Age.
I learned about Paradish the old-fashioned way: someone suggested it to me. I stopped by on the way home from town to check it out and asked the unsmiling hostess what kind of food they served. "Chinese," she said, presumably taking me for an imbecile. What kind of Chinese, I wondered. "Spicy and not so spicy" was as technical as it got.
My professional curiosity by now fully piqued, I turned up with the Professor and a pal the next evening, a Saturday, at 6.30, to find the place full of happy family groups but devoid of (presumably discouraged) wheelchair-bound patrons.
Paradish - yep, that name is just a bad pun - bills itself as offering "innovative Chinese cuisine", but at least two of those words rather overstate its pedigree.
Any idea that this might be Auckland's answer to Manhattan's fabulous China Grill evaporates almost as soon as you walk in the door. Beyond the water feature at the entrance, the icy-white of the fitout is warmed only by a few masks and toy parrots on the walls. A well-stocked bar fills the back wall. The tableware, incredibly, is cheap melamine resin.
The menu - a document made extraordinarily hard to read by the changing orientation of the type, although photos help - comprises a range of dishes, including many variations of shark fin, from the Cantonese and Sichuan traditions.
Our first selection, the "tender kidney in hot and spicy sauce", seemed to alarm the waitress, who tried to dissuade us. When I insisted, she consulted the kitchen (all waitresses are equipped with two-way radios; perhaps this is "innovative").
Much discussion ensued - during which we were asked whether we were aware that the kidney was an internal organ - before we got the thumbs-up. It seemed a lot of fuss over an assertively spicy but otherwise unremarkable piece of pig's kidney.
Come to think of it, that remark could be applied to much of the meal. Some "wasabi king prawns" were certainly fat and moist but smothered in a cloying mayonnaise; half a smoked duck purported to be done Sichuan-style, but it was not spicy at all, just dry and crunchy. A dish of sizzling green beans was fine but at the price - $26 - should really have come with a lobster on the side.
The evening's piece de resistance was "boiled fish with pickled cabbage", which looked just like the picture in the menu, except the picture gave no sense of scale. When it arrived, in a bowl the size of a basketball, it turned out to be an agreeably spicy soup in which floated chunks of very bony, very white and rather tasteless fish.
It cost - I just checked again - $48, which is more than any main course at Merediths or The French Cafe. To describe this as innovative or cuisine would be to exaggerate. But there was about five gallons of it.
Ambience: White
Vegetarians: In a pickle
Watch out for: Bones in the fish
Bottom line: Chinese, yes. Innovative, no
THE BILL
$126 for three
Kidney $8
Prawns $12
Fish $48
Duck (half) $28
Beans $24
Rice $6