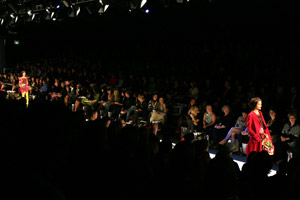 Apologies: I have been very slack with this blog recently. I've been away in Milan, London and Paris, so can you blame me? Too busy taking in all the fashion, rather than writing about fashion.
But now that I am back, I've noticed that the topic of skinny models has come up, again.
Should "ultra-skinny" models be banned from NZ catwalks? Now there's a question that's encouraging reactionary, knee-jerk comments.
So here is my reactionary, knee-jerk comment: um, models here in New Zealand are not "ultra-skinny".
Let me stress this before I go on: I do not want to make light of eating disorders and the influence that the fashion media has on women. But the overwhelming majority of our models here are simply slim young woman with great genetics.
They may not eat fast-food every Friday night, and they may steer clear of the chocolate aisle in the supermarket, but that's not necessarily a bad thing.
Saying that they look "disgusting" and that they aren't "real women" (a phrase that I absolutely despise) is incredibly insulting.
I'm the same size as some New Zealand models, sometimes smaller, and the last time that I checked, I was a "real woman".
Of course, if a model does have an eating disorder or is looking unhealthily thin, then magazines and designers should not book her; she should be encouraged to get help.
So yes then: "ultra-skinny" models should be discouraged, as they are being discouraged in Australia. But what's ultra-skinny?
My ultra-skinny will be different to your ultra-skinny, which will be different to that guy on the street's ultra-skinny. Who decides?
I think it's great that Australia wants to boost the body image of young people, but I don't think simply bringing in a code of conduct and banning "skinniness" is going to magically solve Generation X/Y/Z's insecurity issues.
I think it's more important to look at the key part of Australia's code of conduct: discouraging the use of digitally enhanced images that make models look skinnier, aka photoshopping. That's the bigger issue, not the poor models who just happen to be slim - don't take it out on them.
And anyway: in New Zealand you'll probably find that the editor's photo in your favourite fashion magazine has been photoshopped far more than the model on the cover.
NB: Some of the comments here wondered why models don't smile.
They don't smile because they're told not to smile, by the designer and/or stylist who employs them. It has nothing to do with the fact that they're skinnier than you.