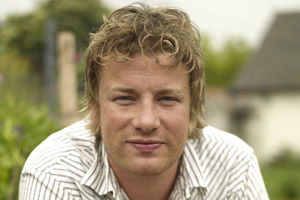 Jamie Oliver's highly publicised campaign to get British schoolchildren eating healthy food has lost its government backing.
Andrew Lansley, the Health Secretary, has said that the celebrity chef's insistence on serving healthy food in school dining rooms had had the perverse effect of sending children out to the shops during the lunch break to buy junk food.
The implication that schools are to be allowed to try to get children eating school meals by offering them what they like rather than what is good for them follows the scrapping of a plan to offer free meals to 500,000 children from low-income families.
At present, children of parents who are out of work qualify for free meals. The Labour government was planning to extend that right to all primary school children from families living below the poverty line, but that plan has fallen victim to the new government's budget cuts.
Addressing doctors at the summer conference of the British Medical Association, Mr Lansley said: "If we are constantly lecturing people and trying to tell them what to do, we will actually find that we undermine and are counterproductive in the results that we achieve.
"Jamie Oliver, quite rightly, was talking about trying to improve the diet of children in schools and improving school meals, but the net effect was the number of children eating school meals in many of these places didn't go up, it went down.
"So then the schools said: 'It's okay to bring packed lunches but we've got to determine what's in the packed lunches, we've got to decide what's in the packed lunches.'
"To which the parents' response was that they gave children money, and children are actually spending more money outside school, buying snacks in local shops, instead of on school lunches."
His remarks are a contrast to his reaction five years ago when Mr Oliver set off a national debate about the quality of school meals by denouncing Turkey Twizzlers.
At the time, Mr Lansley warned his fellow Tories that they needed to understand the popular appeal of a campaign on an issue that directed affected thousands of people fronted by a well-known personality.
"When Jamie Oliver captured exactly what millions of parents felt about school food, did they hear us respond?" he asked.
In 2007, Ofsted inspectors reported that 27 schools they visited had met the requirements to improve healthy options on their menus but there had been a significant fall in take-up of school food. In 19 of the 27 schools, there was between a 9 per cent and 25 per cent drop in the number of pupils eating school meals.
Mr Oliver described Mr Lansley's remarks yesterday as "an insult" to all those who had worked to try to overhaul school dinners.
"I'm not encouraged by the news that the new health minister has summed up eight years of hard work in a few lines for the sake of a headline," he said.
"Any problems that we've been having in school meals is more often than not down to continuing lack of funds for training of school catering staff.
The chef said he wanted to see "practical measures to help bring down the spiralling cost to the NHS of obesity and its related diseases - £7bn (NZ$15.2bn) a year at the moment".
He added: "As far as the minister's comment on lecturing is concerned, I've never really lectured in any of my campaigns. I'll post him a copy of the School Dinners series as he's clearly never seen it. Moreover, I hope that we can meet soon so I can hear more about his practical ideas for ensuring this generation of children doesn't die earlier than their parents."
He called on the Government to "invest in education so that all children can have compulsory cooking lessons and all adults can have access to a food centre which teaches core cooking skills and how to cook fresh, tasty, affordable and nutritious food".
- INDEPENDENT