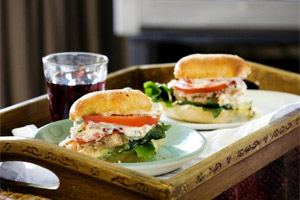 With many cold evenings and wet weekends upon us, the need for tasty snacks to munch on while curled up in front of the TV has increased considerably. While takeaways are an enticing lure, it can be much more satisfying to rustle up something simple in your own kitchen and not have to brave the elements.
The key is to keep it simple and quick, because as soon as it seems like too much hard work, it's tempting to pick up the phone.
Today we have recipes that illustrate this perfectly.
Polenta is simply stirred into boiling water until it reaches a dangerously hot point. As soon as something resembling a hot mud pool appears throw in salt, pepper, herbs and a liberal amount of parmesan. Tip out onto a tray to cool, then cut into fingers and bake with olive oil until crispy on the outside, but lovely and soft in the centre. Polenta is a very tempting snack indeed when dipped into mayo mixed with green olives and lemon.
Buy yourself some crusty ciabatta rolls to make tuna melts. Mix tinned tuna with tarragon, Dijon, a generous amount of spinach leaves, a few fat slices of tomato and some cheddar, then bake until the filling has melted deliciously and the bread is crisp. Better than ordering burgers.
Gyoza dumplings stuffed full of chicken, cashews, coriander and sesame are a delicious fast food. Pan fry over a high heat in a little vegetable oil until the dough is crispy on one side, then add a little water, pop on the lid and let steam until soft and chewy.
Dip into a bowl of black vinegar or a mixture of soy and lemon, and match with a glass of wine or perhaps a wintry ale.
These recipes will ensure a cosy relaxed night will be had by all.
Chef's Tips
Dumpling wrappers are found in the refrigerated section and are available at all Asian supermarkets. Use what you need and freeze the rest - they're very handy to have on call to whip up for a quick bite or you can create different fillings and add to a bowl of soup.