Charlotte Grimshaw's new novel stars a National Party leader tipped to be the next Prime Minister. Does this man resemble anyone we know? Linda Herrick reports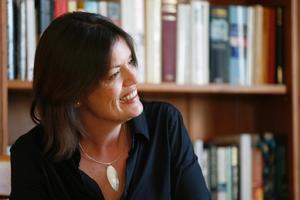 As you race through Charlotte Grimshaw's absorbing new novel The Night Book, which centres around a National Party leader in opposition who looks likely to win the general election, bells start to ring.
Dr Simon Lampton, a character who has appeared in Grimshaw's earlier short story collections Opportunity and Singularity, is a generous National Party donor, largely thanks to his Nat-groupie wife, Karen. But what does Simon really think of the Great Leader himself, David Hallwright?
Simon watches Hallwright as he makes a speech at a big dinner where the fans' middle-aged faces are flushed with excitement and wine.
"His diction wasn't clear and he mangled some words, but he made up for it by staring fiercely around the room ... it was an exercise in affirmation."
Several chapters and some disturbing events later, Simon meets David and his beautiful if reserved wife Roza again, at a carefully orchestrated private party for the faithful.
"Various wits had called him The Man Who Wasn't There. But there was something there: in the eyes. Hallwright's combination of qualities was oddly attractive: verbal incompetence, inordinately cunning eyes."
Hallwright, a tycoon businessman, had a hard childhood with a deprived background, something that still hurts him but which he plays upon as a great virtue during his campaign. It's all about realising your "potential". He and Roza live in a plush suburb in Auckland, in a "square, concrete mansion, with a grand front door and landscaped gardens". For Roza, who has also endured a troubled past, the bland house represents stability. "David just thought the house was classy."
Simon isn't the only character who has doubts about David. Roza does, too. As election day hurtles towards them, Roza finds herself observing him. David has had media training "but it was suspected in party circles that his strangled way of speaking, the train-wreck sentences, malapropisms and mispronounced words, were a hit with the public".
So, Charlotte Grimshaw, is David Hallwright a clone of a certain National Party newbie who won the 2008 election and now leads the country? With barely a smirk, Grimshaw explains it's "fiction".
"There are characters where you might say there are elements that you recognise but that's part of wanting to make a close portrait while creating my own fictional world," she says. "I want it to be one that resonates with the reader. I had the idea of a portrait of contemporary New Zealand and that obviously involves what is going on in the current social climate.
"The thing about the fluency," she continues, "I was really interested in that because the lack of fluency doesn't necessarily represent lack of intelligence or cunning.
"At first you might think that the wife of the politician is very articulate and therefore she is the clever one but you just don't know ... he is aware that [Roza] is noticing how he speaks and it becomes part of the power play between them. I like the idea of keeping the reader guessing about where they are going in the relationship. It's about a politician but it's also about relationships and how the power balance works between couples."
Because of her secrets, which are not confined to the past, the changes coming with David's likely victory are putting Roza under extreme pressure and she starts taking risks. She could become a liability to David, and he and his inner circle know it.
"I was really interested in the idea, just from a fictional point of view, of facing up to the prospect of becoming attached to a really public figure and an institution," says Grimshaw. "The spouse becomes part of the machine and suddenly you're not married to a man any more but the whole brass band with him. You can imagine that would be strange and unnerving."
While there are dark currents sliding through The Night Book, Grimshaw also instils plenty of sly humour, including Roza's cool assessment of Sunday gossip column A-listers.
"The view of the A-lists is Roza's," says Grimshaw. "Roza's friend [Tamara] would take A-lists and social gossip with a manic seriousness. For me, the notion of A-Lists seems harmless but juvenile, meaningless and remote, like, say, skateboarding - like 'childish' things."
Simon's wife Karen, like her friend Trish - whom Simon despises - both wear dresses to the party gatherings that Simon secretly doesn't like, "too elaborate, too many frills". At a later do, Trish and Karen admire each other's "rustling embrace of black satin and frills. There was the usual exchange: 'Gorgeous. Is it by Trelise? I know. I couldn't resist'."
Grimshaw is laughing. "The thing is, I want it to be a portrayal that is accurate so, you know, it's all fiction, put through the fictional filter, but I want it to be a story set in a recognisable Auckland. All I'm trying to do there is show a certain level of affluence and a certain type of person. I mean, these are middle-aged people, a type of look, it represents what is really there."
Deliciously, the reader also gets to eavesdrop on a dinner party conversation where Simon is feeling increasingly detached from the aspirations of the National Party: "Some reality in sentencing ... the jails are too soft ... let the punishment fit the crime ... if we didn't have Maoris our crime rate would be really low". Then David and his cohort get on to discussing how to privatise the accident compensation scheme and the prisons.
"I wanted it to be accurate," explains Grimshaw.
"Simon has a conflict going on - his nature isn't the same as theirs and he's not at all sure he wants to be in that set but at the same time he has made good in life. Like the politician, he has come from a background that's not flash. He has tried to get away from his past and he has made a life for himself that is very materialistic ... his wife is part of that but his real nature is somewhat different, as with Roza. It's as if they have built a life to get away from past difficulties and it doesn't quite match their real natures."
Grimshaw's portrayal of Hallwright out on the election trail in smalltown New Zealand also feels painfully real, and horribly manipulative. His "people" call ahead so when David arrives at a cafe, the staff "have promised to act surprised. To act natural. You show you're accessible, is the thing." It's all image. David eats pies and fish'n'chips, drinks cups of tea, visits retirement homes, films a campaign diary on the road.
"That's exactly what it was like," she laughs.
"Riding in the front of the car, all those sorts of things politicians do in order to appear there isn't a distance between them and the public ... apparently in politics, a huge part of it these days is about the ability to look as though you are connecting with people and that you care, when you don't necessarily care. It's cynical. That's politics, isn't it? It's a dark art. "
CHARLOTTE GRIMSHAW
* Born 1966.
* Trained as a criminal lawyer. Married to lawyer Paul Grimshaw with whom she has three children.
* Awarded a Buddle Findlay Sargeson Fellowship in 2000; the 2006 BNZ Katherine Mansfield Award for her short story Plane Sailing.
* Her short-story collections Opportunity and Singularity were both short-listed for the Frank O'Connor International Prize, in 2007 and 2009. Singularity was short-listed for the 2009 SE Asia and Pacific section of the Commonwealth Writers' Prize.
* Opportunity won the Montana award for fiction and the Montana medal in 2008.
* Charlotte Grimshaw appears at the Auckland Writers & Readers Festival, Aotea Centre, Friday at 6pm.
The Night Book (Random House $36.99)