New exhibition shows art doesn't have to be modern to be radical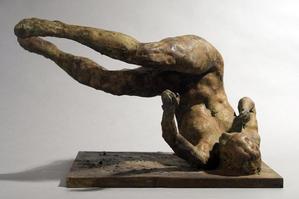 Among the representations of nakedness in Andrew Jensen's Newmarket galley is a large, smooth panel painted in tempera to a fleshy alabaster sheen. The work by American minimalist Winston Roeth is more the sort of severe abstraction that Jensen's gallery is associated with than the bodies adorning the other walls. "I'm a sensualist," says Jensen, explaining his liking of Roeth and some of his reasons for curating an international show on such an unfashionable theme.
In an essay on Philip Pearlstein's nudes, New York Times critic Michael Kimmelman noted there was "something of minimalism's dedication to just plain facts in Pearlstein's approach, a commitment to an underlying abstract geometry that gave a contemporary edge to the work."
Jensen hasn't got Pearlstein, but he has got another heavyweight, American figurative painter and sculptor Eric Fischl. He says seeing Fischl's Tumbling Woman at last year's Basel art fair in Miami galvanised his thoughts about doing a show of nudes.
The work was Fischl's monument for the victims of the destruction of the World Trade Centre. It was first shown at the Rockefeller Centre on the first anniversary of 9/11, but was removed after a week because of the strong reactions it engendered.
"Because so many bodies were unaccounted for, for many people 9/11 has been about the loss of the building, not the people. Fischl felt there was undue attention to what the building represented," Jensen says.
Fischl was intrigued enough by Jensen's idea for a show that he allowed him to pick three works, including a maquette for Tumbling Woman, a woman squatting with Rodinesque power and a standing figure harking back to Degas.
Leaving aside the emotional heat of 9/11, nudity remains one of the few areas where art still has the power to shock.
Naked includes Those Who Suffer Love, a 20-minute stop-gap animation by British artist Tracy Emin featuring the splayed legs of a woman. "That's pretty overwhelming at full roar," says Jensen.
In contrast, a video of Marina Abramovic overwhelms with its reserve and erotic beauty. For just over 12 minutes the Serbian performance artist lies spooned underneath a skeleton, her breathing gently raising and lowering the bones, until it ends in tears.
The third film work came from a chance wander into a side room at the Whitney Museum in New York, where Carolee Schneemann's 1968 work Body Collage was screening. It's identifiably a product of 1960s feminism meeting Fluxus performance art, with a dig at the macho rites of action painting. Schneemann immerses herself in a bath of glue, and then rolls round her studio floor, her body picking up bits of paper tissue in a Fellini-esque frenzy.
The nude is not passive. Lack of clothes isn't what makes someone vulnerable. Nakedness can be a challenge. In evidence: two backsides.
In one, contemporary German photographer Thomas Ruff reworks a fetish image, the woman bent over, looking back at the viewer so the vulnerability of the pose is outweighed by the contempt. "The most obscene image is the least sexy," says Jensen.
The other backside is from 1930, Man Ray capturing the roundness of Lee Miller's perfect derriere. Again, is it invitation or exclusion? That is the image Jensen has chosen for his poster.
The Surrealist lineage continues with a rare photograph by German Hans Bellmer, who created life-size female dolls in the mid-1930s in protest of the Nazi Fascists' aim to create perfect Aryan physiques, and Louise Bourgeois' small etching of a headless woman on a meathook, the body pendulous like the Venus of Willendorf from 30,000 years ago.
Not so old, only 4000 years or so, is a small Cycladic terracotta woman from Syria. Then there's a Greek vase and an Indian Tantric miniature.
"The idea is the naked figure is a perpetual thing the culture keeps going back to," says Jensen. "The inclusion of the Syrian and Greek items is about crossing time lines. I'm sick of the idea of contemporary, radical, now. Man Ray is more radical than any of the contemporary pieces."
EXHIBITION
What: Naked
Where and when: Jensen Gallery, cnr McColl-Roxborough Sts, Newmarket, May 4 until early July