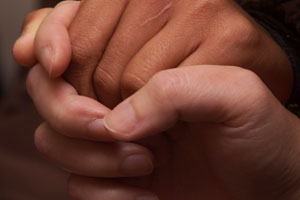 It's acknowledged that women generally need support from someone during birth. Fathers have largely been roped into this task, even if perhaps they are not always the most suitable birthing assistants.
Never fear if your man isn't quite up to the task anyhow, because with "medical" births becoming more common, you can hire a private obstetrician, a private anaesthetist (for your epidural) and even a private midwife to coach you through the pain, should your chequebook stretch that far.
You can also hire a doula, an experienced woman who hasn't got medical training but is there as your personal support person - encouraging you, making you as comfortable as possible and cheering you on. I haven't used one but women who have can say nothing but unending positive things about them.
So we think a doula for birth is ok. What about having a doula for abortion?
This is a new service being offered in the more liberal parts of the US, according to this article on US website Slate. In fact, the abortion doula is provided free of charge in areas of New York.
Although doulas themselves came up with this idea, which is being embraced by the thousands of women who have used the service, there is a strong anti-abortion segment to the doula community which is apparently up-in-arms about this new prong to the doula service suite.
Do women need to have their hands held through abortions, which are often done swiftly under local anaesthetic?
Does it mean that there should be more support services for women who undergo abortion? Or, are we just becoming a bit pathetic, as the writer of the Slate article contends?
Either way, one can not but help marvelling at what a land of contrast the US is.
Where some states are moving to provide women free one-on-one support for the abortion procedure, others - such as Oklahoma - have recently dealt a huge blow to reproductive freedoms.
This week in Oklahoma, two bills were passed, one that forces a woman booked in for an abortion - even when she is pregnant as a result of incest or rape - to view an ultrasound as a doctor points out various parts of the foetus.
Another basically protects a doctor's right to conceal foetal abnormalities in order that a woman bypass abortion and bring a pregnancy to term.
Sometimes it's hard to believe these two mindsets can coexist with any peace in the same country.