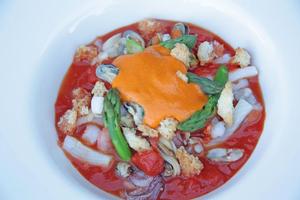 The most expensive spice in the world is considered exotic, intriguing and seductive - so much so that legend has it Cleopatra used saffron in her baths so that lovemaking would be more pleasurable.
Meanwhile, Greek mythology says a handsome mortal named Crocos was turned into the beautiful purple crocus flower, from which saffron comes, when his advances to a lovely nymph named Smilax were spurned.
In India, the vivid orange of saffron is considered the epitome of beauty and is the colour of Buddhist robes.
When it comes to food, this is one incredible ingredient, imparting a wonderful soft orange glow to dishes and tasting of honey hay-like notes and a unique penetrating spiciness.
Saffron is the dried red stigma of the crocus, which flowers in April. The stigma are hand-picked, ideally first thing in the morning before the flower opens. The three hair-like red stigma are laid on a dehydrating tray to dry, losing about 80 per cent of their weight.
It's a back-breaking, labour-intensive, time-consuming task and it can take up to 150,000 flowers to produce a kilo of the spice - hence its ranking as the world's most expensive.
The quality of saffron is crucial. When you buy it, choose uniform whole saffron filaments and avoid the product in powder form, as it may contain some of the flavourless segment of the stigma. Kashmiri saffron is the world's darkest, but beware of some inferior imported stigma with signs of white streaks, light patches or specks.
In New Zealand, saffron is grown in small amounts in Hokianga by Queenie Chadwick, in Hawke's Bay by Terraza and in Rangiora by Eight Moon. The most efficient way to extract saffron's intense flavour and hue is to work to a ratio of a good pinch of the spice to one cup of warm water/milk, then leave it to expand and infuse overnight. The next day you'll find the liquid has turned that beautiful colour and can then be added to boiled rice, rice pudding, pasta dough, risotto, tomato relish, syrups, cakes or yoghurt marinades for chicken and pork.
Around the globe, saffron pops up as a key ingredient in many famous regional dishes, such as Spanish paella, French bouillabaisse and rouille, and Cornish saffron buns.
The threads can be lightly toasted in a dry pan (they're crisp enough when they can be crushed with the back of a spoon).
Buy saffron from a reputable supplier where spices are known to move quickly, in small sealed jars or packets. Once opened, what is not used can be sealed and frozen to retain its quality.
Although very large doses can be fatal, saffron has been used to treat everything from flatulence and urinary tract disorders to poor vision.
For something different, try Saffience, an original saffron liquid extract from Marlborough, which is said to lift your mood and focus your brain.
RECIPES
Rouille
Saffron and mandarin savarin