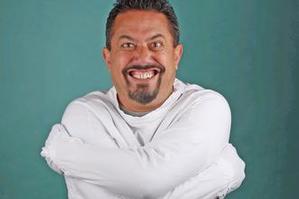 It's the sort of comparison you might expect from a comedian. It certainly sounds like the set-up for a rude joke. Mental illness, Mike King reckons, is a lot like the sexually transmitted disease herpes - no one really wants to talk about it publicly, let alone admit they have it and miracle cures are frequently promised but never delivered.
This is slightly crass, pointed and you have to say, funny, because like all good gags, it rings true.
"You can't cure herpes," he continues, "but you can manage it and live with it for the rest of your life. It just means when you feel that itch and tingle coming on, you've got to get help. It's the same with mental illness."
King isn't being entirely flippant. Having survived chronic depression and drug addiction, the 48-year-old takes mental illness seriously. As a comedian, he'd naturally rather see the funny side - although he would probably add it helps to take the right medication and talk about your issues, preferably with a professional.
This is exactly what King continues to do after confronting his own mental health challenges three years ago. Now he's returning to the New Zealand International Comedy Festival after an eight-year absence and joining a number of performers who are also throwing off the straitjacket.
The late lawyer-turned-satirist A.K. Grant was one of the first entertainers to appear in advertisements designed to change attitudes towards mental illness. Former All Black John Kirwan laid further groundwork for more openness in dealing with mental illness by fronting the National Depression Initiative and discussing his own issues; King and co are taking it a step further.
They are playing their first-hand knowledge of mental illness or neurological disorders for laughs.
But as King points out, they aren't mocking the mentally ill. Rather, they are sharing their own highly personal experiences to get others laughing, talking and thinking about whether they need help.
"Tragedy times time equals comedy," says King. "What is a reason to kill yourself today is hilarious tomorrow."
You could call it the "cracking them up to stop them cracking up" approach - which makes the Mental Health Foundation very pleased indeed. Chief executive Judi Clements goes as far as to say she believes the candour of some comedians is a turning point and represents a movement of change.
"Humour is incredibly powerful and here we see it being used in a new way. I think it is a sign that we are becoming a more mature society.
"I don't think we are laughing at people or about mental illness. Rather, we are laughing with people who have chosen to share their experiences. It is people who have had an experience opening up but doing it in a way that might give others more insight."
King's show, The Devil You Know, deals with the "heart-stopping moments" that have confronted him in recent times. Most of these involved drug addiction and, finally, admitting drugs were masking the real problem, chronic depression.
He reckons he's a nicer - but just as funny - comedian. Previously, he would have singled out the person in the room who wasn't laughing and humiliated them.
"Out of 1000 people, 999 of whom were laughing, all I would see was the one who wasn't and I would take it as a challenge and humiliate them. I was a savage comedian who would leave people with no pants on and one avenue to walk down: to hate me.
"Then I would come off stage and, because guilt rules my life, feel absolutely terrible; like I should go find them and apologise. Instead, I would dive into drink and drugs to forget what I'd done."
Now after his shows people thank King for his honesty and he finally gets the validation he sought for so long.
As well as his own show, King hosts a one-off event called Night of the Nutters in support of the Nutters Club NZ, a group he founded by accident.
Guest-hosting a Radio Live show, King had no callers and time to fill, so he made good on a threat to have a conversation with the voices in his head: the angry one constantly berating him and the downtrodden one trying to defend him.
On that Sunday night last August, the public finally saw - or heard, at least - the tears of the clown. When King stopped for breath and looked down, he saw the board of phone lines into the station was lit up like a Christmas tree.
The calls came thick and fast for the rest of the evening, and Radio Live's new late night Sunday show was born, along with a support group.
Both are irreverently called The Nutters Club. According to its Facebook page, the club aims to "forever change the way people feel, think, talk and behave in relation to our mental, physical, emotional, spiritual, cultural and sexual well-being; and in doing so encourage us all to take ownership of our own health and well-being".
The radio show will be turned into a television series to screen on Maori TV. Meanwhile its Facebook fanbase grows by 60 to 70 people a week.
Another comedian, Rob Callaghan, will add - according to the publicity blurb - extra nutty spice to Night of the Nutters because he's the only stand-up in the festival who has actually been committed. Or at least admits to it.
In his solo show, Confirmed Mad, 42-year-old Callaghan explains how he was sectioned in 2003 following the death of his father and the break-up of his marriage just eight months after the wedding.
"It was just like a country music record. Things that could go wrong did go wrong. If I'd had a dog, it would have died too. The timing really was just awful because I was about to start a three-month contract with South Pacific Pictures and the comedy work had really taken off. Career-wise I was doing well ..."
Except for the unfortunate incident at an insurance brokers' conference in Queenstown where Callaghan, beginning his slide into depression, forgot where he was and abused the guest speaker before him.
"I just sort of blanked out and the room went black. I thought I was at the Classic [comedy bar] in Auckland and was following the last act. I said something like, 'well, he started off well but went downhill, didn't he? In fact, he was a bit of a c***'. Then the lights kind of came back on for me and I realised where I was. No one was laughing. They all just sort of sat there, looking very unhappy.
"Even though I had entertained the group the year before, so they sort of knew me, everyone decided to avoid me because they assumed I must be on drugs. No one asked if I was okay."
After several weeks of watching his behaviour become ever more erratic, friends called the professionals who took Callaghan to Te Whetu Terawa, Auckland City Hospital's mental health unit.
While Callaghan had experienced depressive episodes before, it was the first time he'd been hospitalised. He reacted the way many in a similar situation would do and denied he was sick. He said he was an actor doing research for his next role.
Callaghan was allowed out to continue auditioning for roles - after all, being in work would be good for his recovery.
"I would go for an audition and say, 'right, I've got to go now and get back to the hospital'. Of course, everyone just laughed because no one thought I could possibly be serious."
Eventually Callaghan faced the fact he needed help. After nine weeks at Te Whetu Terawa, he went home to England for a couple of years before returning, two years ago, to Auckland and the comedy scene.
Much of the material for Confirmed Mad comes from his hospital notes, which leave him more than a little bemused. One psychiatrist wrote that Callaghan must be seriously ill because rather than lie to a judge about his mental health problems, he told the truth.
"It does make me wonder just what sort of a world we live in where you're judged to be insane because you're honest."
While the thought of standing up in front of a room of strangers and trying to make them laugh may send some people mad, it is Callaghan's solace.
"I feel brilliant on stage because I can be myself and I do not have to explain who I am. I am an excitable, fun-loving guy who finds fascination in just about everything in life. I can get very interested in little details that others find really boring - and I can share this, make it funny and make others laugh.
"With this show, I just want to entertain and hopefully debunk some of the myths about mental illness. I think some of the things I did were called mad but were really me just living life. Still, it's one of the best things that ever happened in my life, because it changed it for the better."
Callaghan has received funding from Mind and Body Consultants under its RETHiNK grant scheme, which last year supported comedian Chris Brain with a grant. The money allowed Brain to stage his first solo show, A Better Place, which later won him a Billy T. comedy award.
Having suffered from depression since his teens, it was a "darkly comic" look at the myriad ways he dealt with the condition including gambling, drinking and Class A drugs, religion and even going to the gym.
"I wanted to perform a show I could be proud of, and to go on to win a Billy was amazing. I think the best thing, though, is that people would come up to me after the show and thank me for doing it. What I thought was my story was in effect a lot of people's story. It got messages out there in an unexpected forum."
This year Brain, 36, pokes fun at a different forum, the online chat site, Twitter. It has become an obsession that some might argue is a healthier one than the addictions, to use his phrase, the "gifted self-medicator" has had previously.
Called Oneforty in reference to the number of characters you can use in a Twitter tweet, Brain says he finds the whole structure intriguing.
"I'm not a very social person but I interact with a whole lot of people every day and it's surprising how much you can say."
King, Callaghan and Brain agree that those with mental illnesses frequently hide behind a mask of normalcy and use whatever they can - comedy, drugs or the internet - as a crutch.
But actor and musician Paul Barrett, 53, hasn't exactly been able to smile and pretend everything is peachy. He has Tourette syndrome, often associated with loud and socially inappropriate swearing.
He points out only around 15 per cent of those with Tourette have this form of the disorder, called coprolalia. Like him, most others live with involuntary and sudden vocal and physical tics.
In the musical satire, Tic Tic, Barrett plays a cast of characters as he shares his story of how, determined to become an actor, he fought to control the condition.
Tourette first manifested itself when he was 9 and walking to school with friend Lyn McNeil. He felt compelled to turn around in circles and couldn't explain why.
It didn't bother McNeil, who was happy to have a playmate like Barrett who enjoyed dressing up and creating imaginary worlds. But a few years later, teens at Barrett's high school were less forgiving and teased him mercilessly. "By that stage, my sexuality was pretty obvious so I was marked for that as well as all my twitching. It was a double-whammy and I used to think, 'isn't it enough that I am gay?"'
He found little support at home. His father, withdrawn and detached, seemed not to notice. His mother chastised her eldest son for being unable to control himself. He says she seemed embarrassed by his behaviour.
But Barrett found a supportive group of friends, including musician Penny Dodd, who shared his love of theatre and music. He focused on establishing a stage career and when he got rejected for drama school went instead to Victoria University and graduated with an Honours degree in music.
He ended up on stage anyway, making his debut professional appearance at Circa Theatre in 1980. Barrett fought hard to control his tics but couldn't stop his eyes fluttering. After the show, a TV producer approached him to say he thought Barrett had real talent and he "loved" the thing he did with his eyes.
Barrett has since appeared in more than 100 professional theatre and television shows and has extensive experience as a musical director. In fact, he lived so successfully with Tourette syndrome that close friends weren't even aware he had it.
When award-winning writer Michelanne Forster learnt of his condition, she declared they would write a show together and set about getting funding. Tic Tic was part-funded through a Mental Health Foundation media grant.
"This show was written to be really funny. I don't want it to be a case of love me, love my tics. I want people to laugh like hell.
"Most people I know who are very, very good comics have depressive issues or disorders. I suppose it's a case of laugh or cry and they choose to laugh. It may be that being on the fringe gives them a jaundiced view of life and this, coupled with a performing instinct, means they can be ironically detached and find the humour that others may miss."
It is a sentiment shared by Scott Blanks, the man many regard as the godfather of New Zealand's comedy scene. The founder-owner of the Classic Comedy Bar, Blanks says during the last 25 years he has had some interesting times dealing with performers.
He recalls the day a clearly agitated Callaghan arrived in his office, stripped down to his boxer shorts and performed a haka in front of his desk. Blanks waited until Callaghan finished then suggested they have a drink and talk through the issues.
On another occasion, he sat for hours while a bipolar female comic painstakingly went through her handbag explaining, in intricate detail, the significance of everything in it.
Blanks knows a few performers who may have been both helped and hindered by their mental health status.
"Some of the best live comedy is very close to the truth," he says. "How often have you been surprised by a finely tuned piece of observational comedy that was always right before your eyes?
"Some comedians spend a lot of time on the fringes observing the centre, sometimes from dark places. As they spend more and more time performing, so they become more attuned to spotting those minute everyday details and quirks that make us laugh."
Blanks says comedy is certainly not for everyone with mental health issues. For starters, it can become addictive with perf-ormers desperate to experience the "rush" that comes from a great gig. When it doesn't go so well, the pain can be acutely felt.
"A thick skin is required, particularly early in a comedian's career."
Night of the Nutters, MCed by Mike King, Powerstation, May 12. King's The Devil You Know, Powerstation May 14 and 15. Rob Callaghan's Confirmed Mad, Aotea Centre, April 27-May 1. Chris Brain's The Oneforty, Elliot Stables April 27-May 1. Paul Barrett's Tic Tic, Aotea Centre, May 4-8.