Herald on Sunday rating: * * * * 1/2
Address: Sale St
Phone: (09) 307 8148
Website: sale-st.co.nz
Open: Dinner Tuesday-Saturday from 6pm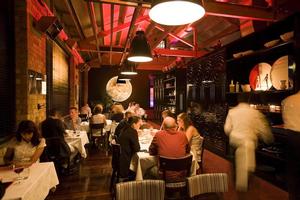 A probably apocryphal story has a member of the Grenadier Guards being asked to describe the experience of Dunkirk.
"My dear man," the imperturbable guard is said to have replied, "the noise! And the people!"
The anecdote came irresistibly to mind as the Professor and I negotiated our way through the heaving throng at Sale St on our way to the new fine-dining room.
It was a Friday and the bar area was a thank-God-it's-Friday sort of place. Nothing wrong with that. But when you're in the mood for a bit of fancy nosh, picking your way through a cavernous space full of ebullient drinkers can be a bit off-putting.
We were greeted warmly at the door (a nice touch) and shepherded through the happy hordes to our destination. This was just as well, because if the Professor had been tempted by a Stella and a tequila slammer on the way, there's no telling what might have gone down.
I was hoping the restaurant would occupy that neon-lit lounge bar where we would be sheltered from the din by a ceiling and a door, but it was shut and silent.
Dallow's is beyond the main bar, with only a black curtain and a massive stainless-steel brewery tank between it and mayhem.
Now far be it from me to criticise Luke Dallow's siting of his eponymous eatery. His record (Salsa, Salt, Malt, Chapel is not an exhaustive list) suggests he knows a thing or two about the hospitality business. But, as the old expression goes, there's no arguing about taste.
So I'll just say that trying to appreciate the finer points of food and wine while the top of my cranium is being sawn through by a fortissimo bass beat and a four-bar electronic melody of stupefying banality repeated ad nauseam is not to my taste.
"I don't mind it, actually," said the Professor at one point in the evening, which prompted me to wonder how much she had been drinking. But her enthusiasm was actually to be ascribed to the salmon entree, which she must have enjoyed because she asked the waitress if the chef was married and, if not, whether he would entertain a proposal.
I can see her point. Nick Honeyman (ex-French Cafe) makes sublime food: inventive yet unfussy, attractively presented and stunningly well-priced ($55 for three courses, chosen a la carte, though that's an opening special).
That salmon (with bitter lemon and a delightfully gritty almond puree) was a genuinely original twist on a dish that in most places is tired and lacklustre. The Prof's roasted duck breast matched with macerated cherries was a shade rare for her, but I thought it perfect and she seemed happy enough to swap half for some of my smoky Canterbury lamb (fabulous ratatouille and a beignet - like a crumbed doughnut - of deep-fried brie). My entree of confit pork belly was slightly dry, having been ill-advisedly cut thin and across the grain, but the three seared scallops, each in its own pool of cauliflower puree, redeemed all faults.
The dessert tasting platter we shared was a gastronomic adventure on its own. It's probably worth visiting just for that, but you may have trouble getting a table when word gets out about this place.
It will be packed with people bellowing at each other to make themselves heard, but they'll be beaming with deep satisfaction.
Ambience: Speak up!
Vegetarians: One entree, one main.
Watch out for: Noisy drinkers.
Bottom line: This could be heaven or this could be hell.
THE BILL
$Three courses x 2 $110
Wine: (2 glasses)
Side: $8
Water: $11