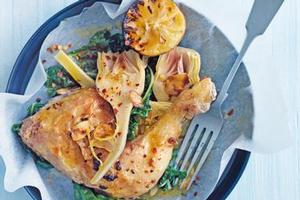 Serves 4
4 chicken marylands
2 sprigs rosemary
4 cloves garlic, crushed
1 lemon, halved
2 Tbsp olive oil
Sea salt and cracked black pepper
20g butter
2 cloves garlic, extra, sliced
1/4 tsp chilli flakes
1 bunch silverbeet, trimmed and chopped
4 marinated artichoke hearts, halved
1 Tbsp lemon zest
Preheat oven to 220C. Place the chicken, rosemary, garlic, lemon, oil, salt and pepper on a baking tray and toss to combine.
Roast for 30 minutes or until cooked through and golden. Set aside and keep warm.
Heat the butter in a large frying pan over high heat.
Add the garlic, chilli, silverbeet, artichokes and lemon zest and cook for 1-2 minutes or until silverbeet is wilted.
Serve with the chicken.
Tip: Chicken marylands are the thigh of the chicken with the leg attached.