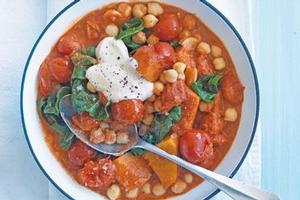 This richly flavoured autumn vegetable is akin to spinach and gives meals a vibrant hue and fresh texture. As a side or the main event, silverbeet is a seasonal favourite. In a golden-topped creamy gratin, a warming curry or as an accompaniment to succulent roasted chicken, these glossy green leaves will add a soft bite to cool weather fare.
Tips and tricks
Silverbeet is a great autumn vegetable and can be used in the same way as spinach. It's delicious served with roasts and partners well with garlic, bacon, soft cheeses and lemon. Try adding it to a frittata or tossing through pasta.
Choosing: Look for smaller bunches as they are likely to be the youngest and most fresh. Choose dark green, unmarked leaves and ensure it has a firm and crisp stem.
Storing: Wrap in damp absorbent paper, place in a plastic bag and store in the vege crisper of the fridge. It will last for 2-3 days.