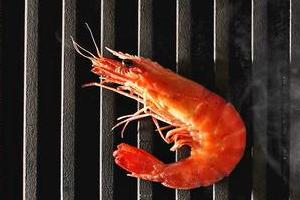 Fresh and delicious, prawns make for fast and easy meals. From a simple midweek pasta to a crispy snack shared among friends and in a fragrant pot of thick, rich tomato sauce, these versatile crustaceans are a breeze to prepare.
All you need are nimble fingers and a few vibrant ingredients to bring out their uniquely sweet flavour.
Tips and tricks
When buying prawns, look for firm ones with no discolouring around the head or legs.
You should eat prawns as soon as possible after purchasing. Store them in an airtight container lined with absorbent paper. You can remove the heads before storing, but don't peel them or they'll dry out.
About half of a prawn is its head and shell, so buying 1kg of prawns will give you 500g of meat.
To remove the shell, hold the head between two fingers, twist and pull it away from the body. Use your fingers to gently roll off the shell and legs. You can leave the tail intact for appearance.
To clean raw prawns, make a slit along the back, remove the intestinal tract and rinse in cold water. Pat dry with absorbent paper.