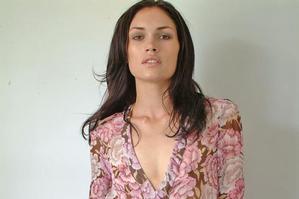 A virtually unknown model from Paraparaumu has been named in a top 10 of New Zealand's most beautiful women.
Stunning Delwyn Cummack was fourth in the poll of Kiwi sex symbols, alongside household names such as Anna Paquin (voted number one) and Rachel Hunter.
Cummack, who has appeared in TV commercials for Peugeot and Pantene, and on Barkers billboards, is happy she can walk down the street without being noticed.
"Sometimes I get a 'you look familiar, do I know you'?", she says, "but I guess it's because I always look very different from in the advertisements."
Cummack, who now lives in Auckland, was talent-spotted as a 14-year-old at a Wellington shopping mall.
She juggled modelling work with studies and completed a double law and social sciences degree at Victoria University.
The 30-year-old keeps fit by doing bikram yoga. And, sorry, fellas - she's happy with her boyfriend of six years.
Cummack is honoured to be named in such company. "It's a massive surprise. I feel very flattered. There are some really big names in there."
American Mark Ecko, who compiled the top 10 for website complex.com, said of Cummack: "We think its only appropriate that this supermodel's name sounds a bit elven to us (word to Peter Jackson), seeing as how her features are just as enchanting."