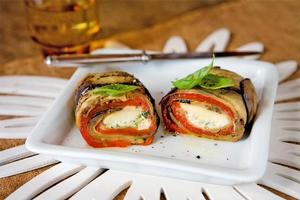 Serves 4
2 medium-sized purple eggplants
2 large red peppers
4 zucchini
Olive oil
Salt and freshly ground black pepper
Fresh mozzarella - either 2 whole buffalo or 4-5 bocconcini
Balsamic vinegar
Flaky salt
Basil leaves
1 Slice the eggplants lengthwise approximately 5mm thick, brush with olive oil and grill for 5-10 minutes turning once, until golden. Set aside.
2 Slice the peppers, remove the seeds, brush with olive oil and grill until slightly blackened on each side and soft. Slice the courgettes, brush with olive oil also then grill for 2-3 minutes on each side.
3 Lay plenty of plastic wrap overlapping on the kitchen bench. Start laying the eggplant slices, also overlapping along the centre of the plastic wrap in two rows, joined together.
Lay the peppers through the centre and the zucchini. Season well as you go then top with the slices of mozzarella. Bring the edge closest to you up and over then roll with both hands into a roulade, using the plastic to squeeze the roulade together. Twist both ends tightly and refrigerate for at least two hours before slicing.
4 Slice each portion with a very sharp knife, through the plastic wrap, before removing and plating. Serve with a drizzle of well-aged balsamic vinegar, a sprinkle of flaky salt and basil leaves.