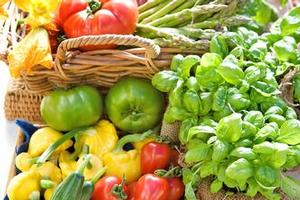 Coming home from the market with your bags bursting with fresh goodies is a great feeling. The next step? Get cooking as soon as possible to appreciate the freshness and quality of all the gorgeous produce.
Courgette or scallopini flowers are particularly delicate so it would be a crime to keep those waiting in the fridge. All you need to do is gently open the flower, fill with the stuffing mixture, gently twist the leaves to contain, then either gently pan-fry in olive oil or whisk up a tempura batter, dip in the stuffed flower and shallow fry. They are absolutely delicious and a true summer treat.
Buying fresh broad beans at the market was an eye-opener for me. I have always loved the idea of them and will happily eat them pureed with plenty of garlic and mint but still am gripped by childhood memories of them boiled and encased in tough pale grey skins. It was a revelation to pod them, then blanch and toss in oil with nothing more than a squeeze of lemon, some flaky salt and a little ground black pepper.
Paired with crunchy slices of radish and creamy free-range eggs, this simple fresh salad would be hard to improve.
Green tomatoes are another example of something you don't see every day. The flavour is perfect on a hot summer's day - like a green capsicum-infused tomato, slightly crisp and very good chilled.
Many have heard of fried green tomatoes, but they are also tasty raw and also lightly pan-fried as I have done today, coupled with juicy chicken and hummus made with sprouts instead of chickpeas and local award winning olive oil.
Chef's tip
Put a small chilly bin or bag in the boot to keep food cool on the drive home; ideally you want to enjoy the produce in as fresh a state as when you bought it.