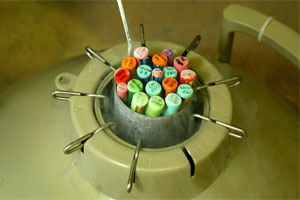 For every 30-something being run ragged by young children at the moment, there seems to be about 10 of her friends, and perhaps double or triple that, who are undergoing fertility treatment to have children.
We read about infertility in papers and can understand and sympathise with the pain and distress it must cause. But it's even more astounding to hear about cases where there are absolutely no obvious reasons for it - both partners pass medical tests with flying colours and have acceptably healthy lifestyles. It is a cruel affliction.
Luckily there is treatment available, and now, two courses of Government-funded IVF for those that qualify. Waiting lists are unbelievable, especially in Auckland, and as long as 18 months if you are deemed young enough to be able to wait.
One woman told me of visiting a prominent fertility clinic one weekend recently: "Queues out the door".
Based on figures extrapolated from Australia, there may be as many as 90,000 or so people dealing with infertility at any one time in New Zealand. Some 15 per cent of couples can't have babies and need help.
World Health Organization statistics imply that infertility and sterility will be the third most serious diseases in the 21st century after cancer and cardiovascular diseases - which, like the first two - may well be just as much of an indictment of our environment and lifestyle as inherent conditions.
But while very few people would want to deny IVF treatment to young, healthy couples, what about when the people booking themselves in for treatment fall outside what might be considered ideal parent material?
Californian Nadya Suleman is one famous, ethically sticky example. Already the mother of numerous IVF babies, her last treatment saw her willingly bring eight children at once into the world. While she was single, living with her parents.
The fact she is now a media star and able to support the children turning up in women's mags in carefully staged photo shoots may not negate the gross foolishness of her situation.
This week in the UK, a woman of 59 was approved to receive IVF treatment to have her second child (she gave birth to her first at 57). It was mainly because of the birth at age 57 that the treatment at age 59 was allowed - her daughter, it was reasoned, should be able to have a sibling. Although the woman uses donor eggs, the sperm comes from her partner - 11 years her junior - and her former pregnancy and childbirth were incident-free.
Is it right for someone on the cusp of 60 to be able to access IVF treatment, even if she has paid for it herself?
It may not be common now, but an increase in overall infertility, coupled with the expansion of infertility services to keep pace with demand, is bound to lead to many more IVF "grey areas" in the future.
On the web:
Woman, 59, becomes oldest person ever to be offered IVF treatment by a British clinic
World's oldest IVF mother dies from cancer two years after giving birth