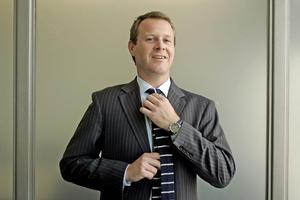 Mark Spooner likes ties so much he owns about 30.
He started wearing ties as part of his uniform at Wanganui Collegiate and carried that through into working life.
But he won't wear any old thing. A green striped tie his wife got him as a Christmas present got the thumbs down.
"It was just not in the right colour for me. I swapped it for something else."
He has also had the odd fashion disaster himself.
He admitted the lime-green tie he bought several years ago has since been thrown out.
"I do the odd cull from time to time depending on how my tastes are going."
Spooner, the compliance manager for Gen-i in Auckland, wears a tie two or three times a week, especially in winter.
But he says he's in the minority in his office as most of his colleagues prefer the tie-less look.
Now Spooner is getting into the new fashion of the knitted tie, to the bemusement of his colleagues.
"They sometimes can draw a few disparaging remarks."