Herald rating: * * *
Address: 49 Main Rd, Bombay
Phone: 09 236 1030
Website: bracu.co.nz
Cuisine: Modern New Zealand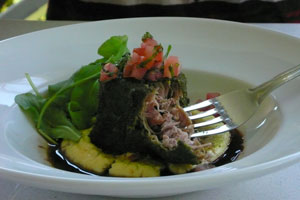 As the year draws to a close I'm ending this year's Eating Out column on a sophisticated note with a visit to an olive estate. Ten years ago Ivan and Branka Simunovich made a decision to "grow their own piece of Croatia in New Zealand", carrying on their family tradition of growing olive trees.
Now their 86ha property nestled in the Bombay hills supports more than 40,000 well-established olive trees as well as Bracu Restaurant, housed in the historic kauri villa that sits at the top of the grove.
Only 40 minutes' drive down the motorway, this place felt like it was a million miles away and seemed perfect for a lazy summer lunch with two friends. We pre-booked to secure a table on the sweeping veranda, with its white wicker chairs and starched linen tablecloths.
The weekday lunch menu was more like a full dinner menu and that suited us, as we were in the mood for some serious eating. The man of the table leapt in to bag the scallops, the lady friend the squid and I willingly went for the pork terrine.
While these were being rustled up, we settled in to sip our glasses of bubbles and rose, revelling in the quiet, rural air of Bombay. Just as things were beginning to get too soporific, our starters arrived to pep us up. My pork and pistachio terrine was a chunky slab, accompanied by Bracu's speciality piccalilli. This garish, turmeric-yellow pickle worked its mustard magic to cut-through the fatty terrine.
The scallops were another bold dish that worked well. Fresh, plump morsels floating on a rich tomato passata and speckled with black olive crumbs, the concentration of flavours in this dish were superb.
The squid was not such a delight. "Chewy and confusing," was the report. Teamed with roast garlic, Medjool dates, beetroot, shaved parmigiano and dressed with aged balsamic, the poor squid had a lot to contend with and it struggled to shine.
Midway though lunch our conversation turned to how important the floor staff were to the overall dining experience; and how the chefs' careful preparation and execution of the food could go only so far in determining an outstanding eating event. Unfortunately the wait-staff at Bracu on this Wednesday let the side down with basic niceties such as refilling water glasses, removing used napkins and remembering who had ordered which dish, going by the wayside.
We did wonder if, being mid-week, we were experiencing the "B team" as opposed to the award-winning team that we'd heard had just scooped the people's choice awards in the hospitality category of the annual corporate events awards.
Bracu is not billed as a casual cafe so properly trained staff across the board would seem a minimum requirement.
Anyway, it wasn't the season for complaining, so on to the mains. My choice of confit of lamb shoulder was sweet and tender, having been pulled apart and re-moulded into a herb crust and served on soft polenta.
It was served with a strongly minted tomato concasse which was refreshing and made me forget all about the heaviness of lamb at lunchtime.
The man friend was feeling manly (lunching with two gorgeous women for company does that) and he selected the scotch fillet with cafe de Paris butter. Cafe de Paris butter is much more than just a garlic butter and this version had hints of mustard, Worcestershire sauce, capers, salt and black pepper in addition to the garlic. It was excellent.
The grilled snapper came skin-on, fresh and simple with seasonal asparagus and new potatoes but lacked any real X-factor and was not outstanding enough to turn the friend's frown upside down.
Fortunately her luck changed with her pudding selection. The hazelnut, chocolate and raspberry clafoutis came in a small cast iron pan and was dreamily delicious. Our other selection, the lemon cream Italian meringue, was also impressive and we were not surprised to discover that head chef Adrian Brett-Chinnery, had done some time in a Michelin star restaurant as a pastry chef. His love and flair for all things sweet was obvious.
Bracu Restaurant is elegant, beautifully presented and definitely worth venturing out to the countryside for.
I can imagine returning over summer to picnic in the olive grove or brunch on the balcony but, when I do, I hope to find staff who show a little more attention to detail and food that is more consistent across the board.
Happy holiday eating everyone!
From the menu: Grilled squid $21.50; pan-fried scallops $21; pork and pistachio terrine $16.50; scotch fillet $33; grilled snapper $33; confit of lamb shoulder $27; Bracu lemon cream $16.50; chocolate and raspberry clafoutis 14.50.
Drinks: We enjoyed glasses of Deutz Rose NV, Marlborough $14.50, Wooing Tree Rose 2008, Cromwell $13, Te Mata Awatea Cab Merlot 06 $16.50.