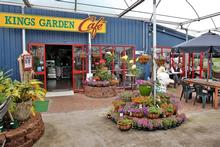 Where: 11a Porana Rd, Glenfield
Herald rating: *
We came here because spring was in the air and thoughts were turning to the garden.
Parking was easy and off-street, in the plant centre's car park.
We walked in and immediately thought the colours of the flowers, etc in the plant centre as we approached the were divine and the cafe's beautiful counter mosaic blended nicely with the theme. The artwork, too.
The most unusual thing on the menu was not a factor here. All staple brunch fare, with a good range of options on the kids' menu. We ordered the Kings eggs benedict with bacon ($13.50) and salmon and scrambled eggs on lemon pepper foccacia with hash browns ($11.50). While it is often a mistake to judge a book by its cover, when our plates arrived, the meals seemed less than impressive. And the store-bought hollandaise and barely-toasted stale foccacia with Leanne's eggs bene, coupled with my rubbery scrambled eggs and supermarket hashbrowns did nothing to change our opinions. The sparrows hopping around the tables were less-than-hygienic too.
The service was slow and the guy at the counter seemed flustered.
The coffee was hot but average.
We recommend if you come here you would be best to drop in for coffee and cake from the counter while taking a break from shopping for your garden.
Overall we thought given the beauty of the garden centre it was a shame the cafe didn't match. As the cafes of each Kings Centre are independent, we'll opt for another one next time.
By Sue Baxalle