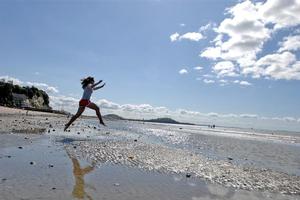 It's officially summer. And, after a winter of discontent - and recessionary blues - it's time to warm up. Here are 25 ideas for making the most of Auckland this summer.
Easy pickings
Way out west it seems there are strawberry fields forever, come summer. Sure, you can buy strawberries in punnets at the supermarket, but it's so much more fun if you and the family pick them yourselves. Take the northwestern motorway before hanging a left on to State Highway 16. On the stretch of SH16 between there and Kumeu are a number of strawberry growers, some of which offer pick-your-own. The best time for picking is in the morning or on a cloudy day. And remember: the redder, the riper they are.
Visit Birdland
If blackbirds eating old bread in your backyard excites you, imagine yourself on an island paradise positively popping at the seams with hundreds of birds of dozens of different species. On Tiritiri Matangi, in the Hauraki Gulf just 30km north-east of central Auckland, are some 78 species of native and introduced birds including takahe, saddleback and kokako.
Go for the day and walk around the island (it takes 2 to 3 hours at most with plenty of stops) or take a guided tour with volunteers from the Supporters of Tiritiri Matangi group. Further details at www.tiritirimatangi.org.nz
Watch out for racketeering
Do you love drinking strawberries and eating Champagne? Sorry ... well you know what we mean. And what better accompaniment is there to this delightful summer combination than an afternoon of tennis? The country's top women's tournament, the ASB Classic, begins on January 4. The men's event, the Heineken Open, starts on January 11. Both are played at the ASB Tennis Centre in Parnell.
Walk in the footsteps of Hillary
Well, possibly not. Face it, you're not really ready for Everest. However, Auckland trampers keen to do a multi-day track close to home now have a viable option thanks to the Auckland Regional Council. The ARC has created the Hillary Trail - a new four-day walking track through the Waitakere Ranges and along Karekare, Piha, Anawhata, Te Henga (Bethells) and Muriwai beaches. The 70km track opens in early January.
It's Bond, James Bond
You know what your car says about you, don't you? Well for one day this summer, let it say the opposite. Think smooth operator. Think shiny, convertible and European. There are a few specialist car rental companies that can let you have something for the day (Sports Car Rentals Online can do an Audi TT convertible from $305 a day). Then cruise Tamaki Dr. Burn up the motorway. Turn up the stereo and impose your suspect music tastes on unsuspecting passers-by. Vroom, vroom!
Leather on willow
My, but isn't Devonport lovely? Without question, it's the prettiest suburb in Auckland. It also has one of the oldest cricket clubs in the country, the North Shore Cricket Club (established in 1864). What then could be more lovely than spending a Saturday afternoon watching cricket at Devonport Domain, the tree-lined patch of green in the heart of the city's loveliest 'burb?
A day at the races
And they're off! The sport of kings isn't just for retired, balding beer drinkers with a Best Bets in their backpocket. Dress up, take as much cash as you can afford to lose and enjoy the thunder of hooves hoofing it toward the finish line. Whether it's at Ellerslie or Alexander Park, we're betting - at very good odds - you'll do your dough but still finish in the winners.
Play something we know
Maybe it's the high kiwi dollar. Or maybe musicians like coming to New Zealand for our, er, world-renowned greenery. Whatever it is, summer 2009/10 is set to be one of musical festival madness with regulars such as the Big Day Out and Splore, joined by new ones like the Laneway Festival, to be held at Britomart in February. From Lily Allen at the BDO to the reformed 3Ds at Laneway, you're sure to find one festival that's worth the sunburn.
History repeats
Heritage? What damn heritage? Surely they knocked it all down? Well, not quite. And it is certainly time you properly acquainted yourself with what's left on one fine summer's day. Some of it you will probably know well - the former Chief Post Office, now the Britomart Transport Centre - others, like Blackstone Chambers in Wyndham St (built in 1888 and at one time the offices of the Auckland Star), you may not know at all. Heritage walk pamphlets can be found at www.big littlecity.co.nz/Attractions/Heritage - Walks/
Slide rules
Cheap, cheerful and retro. Find yourself a nice big flat piece of cardboard, drive to, then climb up, Mt Eden, find the steepest, grassiest bit and away you go. Follow up with a trip to A&E if you must.
Dine alfresco at Mission Bay
No need to book, just order one of the fine takeaway pizzas from the Bay's Tonino's Pizzeria, shell out for a halfway decent bottle of something, find a patch of sand that's in the sun and enjoy the best views in Auckland.
In the market
Clevedon might be horse country, but come Sunday mornings it has one the best, nicest farmers' markets in the region - and it's a lovely drive there to boot. Stock up on organic meats, handmade cheeses, Hungarian pastries and small goods, fresh fruit and veg and handmade truffles. Pony rides a must. For more information see www.clevedonfarmersmarket.co.nz
Twist again, like you did last summer
Do the tuatua dance (twist your body so that your feet burrow into the sand) at a sandy beach where tuatua live, then boil the result to remove the sand, chop them and add to your favourite batter mix. Repeat until your holiday at the beach is concluded. And remember: the daily limit for tuatua is a 150 per person (everywhere but Auckland and Coromandel where the daily quota is 50), so one person can feed the masses.
Shake, shake, shake
Choose a favourite summer cocktail - the mojito is hard to go past - and perfect its making in a series of epic mixing and muddling sessions. Invite friends to test the results. Only once your recipe is flawless may you enter rehab.
Thank you very much for your kind donation
You can't spend all your summer holidays laying about. You really should make some sort of contribution too. You might try signing up to help Habitat for Humanity, a not-for-profit group which builds homes to help eliminate homelessness and hopelessness. The organisation has already helped 345 families into homes. For more information see www.habitat.org.nz
Anyone for tennis?
Yes of course endless games of swing ball are terrific fun, but isn't it time you broadened your outdoor interests into, say, tennis? Try learning a new sport or game (either indoor or outdoor). Join a tennis club or get some golf lessons. Buy a croquet set, learn petanque or dive into some snorkelling gear.
Retro-fit your summer
Try wearing a faded orange towelling hat in public. Or a pair of stubbies, or budgie smugglers or (for the ladies) a one-piece swimsuit, blue eyeshadow and very large, floppy fabric sunhat. Rub cooking oil on yourself to improve your tan. Play beach cricket. Grow your hair long. Go on a caravan holiday. Have a potluck dinner. Get the Holden HQ stuck in the sand. Drink large amounts of L&P, Fanta or Leopard lager. Hey presto, it's summer circa 1975.
Very cheeky, obviously
Just for the hell of it go skinny dipping. Most find it to be very refreshing, utterly liberating and only a little bit naughty. Probably best to do it at night, though, if you're body conscious.
Paint it white
Does your home seem to have very bad dandruff? Is it like a blackboard? Chalky to touch? Well obviously it's time to spruce it up. Make sure you do it right. Preparation is key: scrape, burn, sand and fill the gaps. Make sure you prime it well and give it two coats. And remember, never, ever, ever attempt to paint your house when there's no test match cricket on the wireless.
Art house
It's stinking hot and you're sweating bricks and the kids are ratty, so it must be time to escape the sun with a visit to the Auckland City Art Gallery. December and January have "yummy programmes", inspired by the gallery's new show Taste: Food & Feasting in Art, which include making chocolate fish brooches and fabric version of kids' favourite foods. For more information see www.aucklandartgallery.govt.nz/ activities/childrenfamilies/default.asp
Cone heads
This will hardly surprise you, but Auckland has rather a large number of volcanoes. Dozens in fact. Within 20km of the central city, there are around 50. If you've only ever driven up Mt Eden for a quick snog then it really is time you explored some of the rest - and not by using your car. Try climbing as many as you can in one day. Visit a new one each week. To gather more information for your exploration go to www.arc.govt.nz/environment/volcanoes-of-auckland/ the-volcanic-field.cfm
Follow the yellow, antique brick road
There are few better excuses for clearing the diary: cheap as chips plunder. Just empty the car, fill the tank and head north for a lazy tiki tour of the microburgs of rural Rodney, a land still groaning with ye olde school secondhand shops and country pubs. Mix the two, assuming you of course have a dedicated driver, and you'll be guaranteed to return home with a stack of fantastic knickknackery to engorge your next contribution to the annual inorganic collection.
Hook, line and sinker
The price of fish. You'd think in a country that's actually more coastline than country, you'd be able to feed the family on snapper five nights a week and still have change from a 20. But no. So why not cut out the middle fella and head to the nearest wharf, rod in hand, to catch the kai moana yourself. Teach a child and it will be even better: you'll find yourself starring in something like a heartwarming family movie of love and life lessons between the generations.
Island time
Waiheke is a very strange place, full of rich weirdos and greenies. But, by crikey, it has lovely beaches. And vineyards. Annoy the locals by catching an early ferry and setting your noisy kids up on a large patch of sand at Oneroa, Little Oneroa, Palm Beach or Onetangi, while the adults join a tour of the wineries and have a flash lunch before returning to the beach for a nice, post- nosh dip.
You can lick it
Nothing says summer like icecream. It is - quite literally - the cream on the top of a day at the beach or an afternoon lounging at home. Sure it's easy to zip into the nearest dairy but it's much more fun to make your own. Here's Allyson Gofton's recipe for Crunchie bar icecream from www.ecook.co.nz:
Ingredients
2 cups cream
395g can condensed milk
3 Crunchie bars
1 tsp vanilla essence
Whip the cream until thick. Add the vanilla essence and fold in the condensed milk. Chop the Crunchie bars well and fold into the cream mixture. Place into a freezer-proof bowl and freeze overnight until set. Use within 10 days.