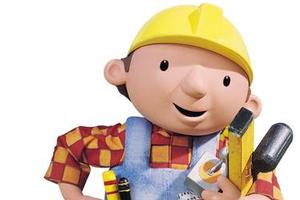 My kids' favourite song at the moment is Chop it like a Saw.
Most of us would know this song as Drop It Like It's Hot by Snoop Doggy Dogg, but thanks to the wonders of You Tube, there's a version even 20 month olds can appreciate - even if they get the words a bit wrong!
The song in question is a mash-up between the aforementioned Mr Doggy Dogg and the main theme tune to Thomas the Tank Engine. In this version, Thomas has a brown face with braids, is smoking a joint, and wearing lots of bling around his funnel.
He's also saying a lot of the "N--r" word and the old "m--f--". So much bad language that if our kids keep that sort of sailor talk up they run the risk of ending up in the New Zealand Parliament.
Thankfully when my son sings Chop it like a Saw at Kindy, no one knows what he's really trying to sing. One teacher guessed it might be something to do with house building, or perhaps something the very PC Bob the Builder sings as he constructs the village recycling plant. Errr....
yes, that's it!
Thomas originator Rev Aubrey would undoubtedly be spinning in his grave at the conflation of the fussy little tank engine from a fictional, sleepy English island and a gangster rapper from the mean streets of LA... It's hard to think of even one thing the two media properties have in common, other than being wildly popular with young men.
Strangely, the Thomas theme lends itself well to the world of gangster rap - there are mashups between it and Notorious B.I.G, 50 Cent (In Da Club), Eminem (My Name Is) and Coolio (Gangster Paradise). Root around on You Tube (or Ooh Tube, as it is called in our house) and you'll find mashups between house music and the Tele Tubbies, pop and Barney, and almost anything else you can think of.
But be careful! The other day the kids were urging me to click on a mashup between Teletubbies and In the Night Garden (called Teletubbies in the Night Garden). I should not have been so surprised when I realised the mashup was the Tele Tubbies indulging in some very adult behaviour in a garden at night... Unfortunately for us, it was a well-lit "night garden".
You Tube is certainly entertaining in short bursts, and even more so when you search for the proper kiddie content like Wiggles and Sesame Street.
But you do have to wonder why so many people seem to have the time to create elaborate mash-ups and what the kids are taking out of it. Will I only have myself to blame if our son comes home from kindy sporting gang colours and flicking those funny hand signals like an arthritic septuagenarian.
Maybe, but then again he might have just picked it up watching the news.
Dita De Boni
Pictured above: Snoop Doggy Dogg (left) and Bob the Builder (right). Photos / Supplied