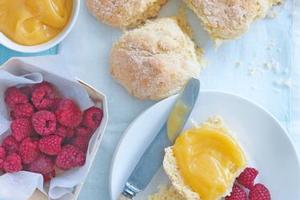 With their delicious aroma and soft texture, scones are an all-time favourite. They turn basic, inexpensive ingredients into something truly special.
Serve classic scones with generous amounts of cream and jam or add fruit and zest for a change.
They're so easy to make, even little hands will be able to get in on the action and they'll be well rewarded for their efforts.
Scone secrets
* Use a butter knife to mix the dough and bring it lightly together with your hands. This avoids overworking the gluten in the dough.
* Use very cold butter to ensure a flaky texture.
* Dust the scone cutters in flour before cutting each scone. This will stop them from sticking to the dough.
* Placing the scones close together on the tray will help them to rise.
* Scones are delicious with a range of flavours, from the classic vanilla-scented cream and jam to marmalade and butter. Be creative with your condiments.