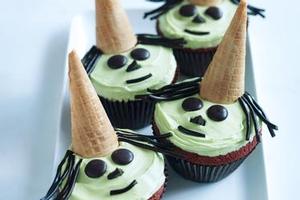 As the witching hour of Halloween nears, bringing hordes of hungry ghouls to your door, mix up some sweet concoctions in your cauldron. Green-faced witches with their pointed hats and licorice hair, spooky bat biscuits and dark magic rocky roads will be sure to satisfy the scary little creatures and see them scuttle back into the night.
BEWITCHING CUPCAKES
125g butter, softened
3/4 cup caster sugar
2 eggs
1 1/4 cups plain flour, sifted
1 tsp baking powder, sifted
1/4 cup cocoa, sifted
1/2 cup milk
2 tsp red food colouring
Green food colouring, for icing
2 cups store-bought vanilla icing*
12cm licorice strap
Licorice laces
24 black candy-coated chocolates
12 small ice-cream cones
Preheat oven to 160ºC. Place butter and sugar in the bowl of an electric mixer and beat for 10—12 minutes or until creamy. Gradually add eggs and beat until combined. Add flour, baking powder, cocoa, milk and red colouring and beat until just combined. Spoon into 12 x 1/2 cup-capacity muffin tins lined with cupcake papers. Bake for 15—20 minutes or until cooked through.
Cool on wire racks. Add green colouring to icing and mix to combine. Spread on the cupcakes. Cut 12 triangle noses from the licorice strap. Cut the licorice laces for the hair and mouths. Top cupcakes with chocolate eyes, cone hats, licorice noses, hair and mouths. Makes 12.
* You can buy vanilla frosting from the supermarket or you can make your own.
DARK CRYSTAL ROCKY ROAD
600g dark chocolate, chopped
1 Tbsp vegetable oil
3 cups mini marshmallows*
1 1/2 cups soft fruit jellies
Place the chocolate and oil in a heatproof bowl over a saucepan of simmering water and stir until melted and smooth. Place the marshmallows and jellies in a bowl, add the chocolate mixture and mix well to combine. Spoon into a lightly greased 20cm x 30cm tin lined with non-stick baking paper and refrigerate for 1 hour or until set. Cut into squares to serve. Makes 30.
* If you can't find mini marshmallows you can chop up large marshmallows.
** You can use milk or white chocolate instead of dark if you prefer.
BATTY BISCUITS
125g butter, softened
1/2 cup caster sugar
1 egg
2 tsp vanilla extract
1 1/2 cups plain flour, sifted
1/2 cup chocolate-hazelnut spread
Place the butter and sugar in the bowl of an electric mixer and beat for 8-10 minutes or until pale and creamy. Add the egg and vanilla and beat until well combined. Add the flour and beat until a smooth dough forms. Divide dough into two pieces and wrap in plastic wrap. Freeze for 30 minutes or until firm. Preheat oven to 180C. Roll each piece of dough out between two sheets of non-stick baking paper to 3mm-thick. Use an 8cm round cookie cutter to cut 24 rounds from the dough. Place on baking trays lined with non-stick baking paper. Use small triangle and small semi-circle cookie cutters to cut bat shapes out of 12 of the rounds. Bake for 10-12 minutes or until golden. Allow to cool on wire racks. Spread the uncut biscuits with the chocolate hazelnut spread and sandwich with the bat biscuits. Makes 12.
TIPS & TRICKS
These cute bags are a fun way to package up store-bought sweets for when the ghouls ands ghosts come knocking.
Buy coloured paper bags from party supply or craft stores and line the insides with baking paper to prevent grease from marking the bags.
Use crimping scissors, available from art supply and craft stores, to create fun edges on your paper and bags.
Punch a hole in the top of each bag and tie with coloured ribbon.
Attach a spooky message or guests' names if you're hosting a Halloween-themed party.