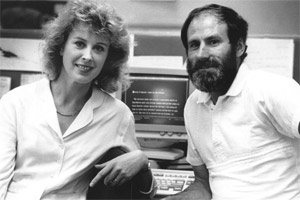 When I heard John Glennie's "Gidday Blossom" on the phone this week, I knew nothing had changed.
I phoned John at his home in Yelm, Washington State, for a 20-year catch-up.
I woke him up; he'd fallen asleep listening to the radio after a day's work building. John was always building something — this time a lavish semi-underground chook house and a handsome glasshouse on the 2ha property he shares with wife Ronaye.
Nearly 20 years have flashed by since we wrote a book together, The Spirit of Rose-Noelle, John's survival story.
We were thrown together without warning — me, a young Herald journalist asked to ghost-write a book, John, a survivor who had lost not only his boat but his home.
I remember him sitting in the Herald offices, wearing a donated TVNZ jacket, looking gaunt, tired and vague. Slow starvation at sea had left him befuddled, his memory and concentration shot to pieces. We eyed each other up.
Could we work together? We decided we could.
There was one more thing, John's literary agent, the gentlemanly Ray Richards, said. John had nowhere to live. Could he possibly stay at my house for a few weeks? So John moved in with my husband and me; in the end he stayed for five months.
In the early days no matter how much I cooked for dinner, John ate the leftovers. He hated waste. If he could he would have hoarded food. He joked about his "see food" diet. Simple decisions, such as what flavour icecream to eat, or what kind of toast to have in the morning, were beyond him.
He suffered from what was diagnosed as mild post traumatic stress syndrome, sometimes waking in the night in a panic, his sheets soaked through with sweat.
We spent the evenings after I came home from work going over and over every little detail John could remember. The process frustrated us both.
His recall was vague as his body and mind struggled to recover from the ordeal at sea. He had kept a diary, a log, and had taken two rolls of film on a camera salvaged in the early days. But the precious bundle of possessions, secured in watertight containers, lashed together and tied with a flotation buoy, had been lost when the Rose-Noelle began to break up on Great Barrier.
While I wrote, I sent John off to do errands ­— visit the Auckland Weather Office for a piece of information, check something at the library. But with his memory still poor I'd get a call from a public phone box in town.
"Blossom," he'd say, "what was it you wanted me to find out again?" He never called me Jane; it was always Blossom.
The nightly grilling sessions left John exhausted, emotionally spent. I built up hours of taped transcripts with long silences.
One night the phone started to ring. Media wanted to talk to John. The preliminary inquiry into the Rose-Noelle story had been leaked and it backed up the four men's stories. Reporters wanted to know if John felt relief, vindicated by the report. He was perplexed by the questions. He knew where he and his three crew had been for those 119 days. It was the rest of the world who had doubted.
As the weeks rolled by, John's hair began to grow back, his swollen legs and feet — fluid retention caused by a high level of sodium in the blood — began to heal.
He put on weight and his concentration improved. His bedroom and our garage slowly filled up with salvaged treasure from the Rose-Noelle, a pitiful collection of debris that represented all that was left of his former life.
The EPIRB beacon, which had failed to attract the attention of passing planes, sat on his desk. Some of the larger pieces of yellow fibreglass hull were left in our garage after John left for the States. I donated them to the Maritime Museum in Auckland years later.
We had to kick-start John's life, apply for a new passport, start a new address book, open a bank account and claim money back from lost traveller's cheques.
The role of co-author stretched to minder, friend, decision-maker. Now I was back interviewing him 20 years later and the habitual silences made me laugh out loud.
"Nothing much has changed," he eventually said after a long pause, "You still know how to ask the curly ones."
Back then I'd learned to wait, to ride through the silences while John pondered.
He didn't like talking about himself, his feelings, his emotional responses. But if we were to write a cracker of a survival story, the story of four strangers thrust together under terrifying circumstances and learning, day by day, to live together and stay alive, then I needed John to open up.
Ask John how he managed to rig up the water collection system on the upturned hull, or devise a makeshift gas cooker using salvaged bits of piping and fittings and the words flow.
Ask him how he felt when, after nearly four months adrift, he spotted a yacht and knew that by some miracle they had drifted back towards New Zealand, and the mouth clamps shut. Today he's no different.
At one stage, I thought the line had gone dead. A couple of days later John sent me an email — a collection of random thoughts. But there was one clear message: John is happy with his life.
He met and married Ronaye, a gentle Canadian woman. They're living off the land — eating what they grow.
Eyeing a neglected 8m trailer sailor next door, John made his neighbour an offer and now owns his first boat since the Rose-Noelle.
He's got a bit of work to do on it, he says. "We love our garden, and our chooks, our bit of heaven we have created from scratch," he wrote.
Ronaye doesn't seem to mind that she got a concrete mixer for her birthday or, despite all John's hard labour, that they are still living in a 45-year-old, 17m mobile home.
"Trailer trash!" John screeches down the phone, his voice full of laughter.
He sends me an eclectic array of photos, he and Ronaye practising archery, the waist-high flowers in their garden, his exotic chooks that lay green eggs, his gorgeous 21-year-old daughter Alexandra who I remember sitting as a distracted toddler on her mother's knee in a Brisbane TV studio as Paul Holmes tried to encourage some emotion during what was a live reunion of John and his estranged wife Danielle.
Looking back, John tells me now, he knew he was going to survive the experience, dreaming his way through as he lay in the cramped, damp cabin inside the hull.
"I never had one thought I wouldn't make it out alive," he says.
As we worked on the book manuscript back then, we mulled over the title. John had named his beautiful new boat after Rose-Noelle Coguiec, a young Tahitian woman he had met while sailing round the Pacific with his brother David.
Back in Australia, John kept in touch with the "Miss July" beauty queen and in 1973 she wrote to say she planned to visit him in Australia where he was building his new boat in a peach orchard in the West Pennant Hills near Sydney.
John wrote back but his letter was returned stamped with the French words "decede". Rose-Noelle was killed on July 23, 1973, when a Pan Am Boeing 707 crashed shortly after take-off from Papeete on its way to Los Angeles. John decided then to call his new boat, his new love, Rose-Noelle.
Years later, drifting at sea, cold, hungry and thirsty, John said he felt an inner peace. Rose-Noelle's spirit was watching over him. He knew he would come out alive. In the end, the book title — The Spirit of Rose-Noelle — was easy.