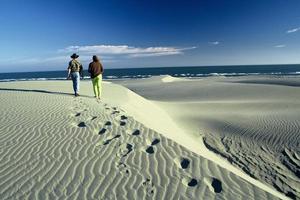 A good relationship with family and friends and job satisfaction make people happiest, according to survey findings.
Socialising, having a sport, hobby, or interest in the arts all help too.
However, times are tough and New Zealanders are less happy this year than last year, the annual UMR Research happiness survey found.
The happiest men are in Nelson/Marlborough and the happiest women in the Bay of Plenty.
Wellingtonians are the least happy of city dwellers.
Happiness tended to decline between being a young adult until mid-40s and then to steadily increase to peak with those over the age of 75, said UMR director Tim Grafton.
"Happiness and money don't go hand-in-hand as those on less than $15,000 a year are slightly happier than those on more than $70,000.
"However, the least happy are those on middle incomes between $30,000-$50,000."
Researchers questioned 15,000 New Zealanders over the age of 18 in the survey.
- NZPA