Herald Rating* * *
Address: 64 Waimarie St, St Heliers, Auckland
Ph: (09) 575 2827
Website: www.eiji.co.nz
Cuisine: Japanese
From the menu: Edamame $6, seafood sashimi $14, seafood and vege tempura $19, chicken miso katsu $18, lotus root kashiage $3.50, ishikari nabe $18
Vegetarian: Great variety
Wine List: Focus on the excellent beer and sake list instead or BYO wine at $3 per bottle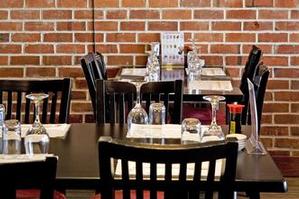 I view eating Japanese food as I do yoga - invariably I'm not that struck on the idea but afterwards, I am filled with a wonderful feeling of virtuousness that makes me question why I don't indulge more often. Tonight is no different. I've promised to take my dad to the local Japanese restaurant that his golfing mates have been raving about. It's a perfect arrangement - my father loves Japanese food and my mother, who really doesn't care for it, is out of town. Eiji rests in the genteel suburb of St Heliers but is anything but suburban. In fact this little place seems to be staffed by a team of young Japanese snowboarders! A host of chefs, all dressed like karate kids, man the open kitchen. Instead of a bell to notify the wait staff when the food is ready, they shout out. The wait staff wear name tags with taglines such as #1 Beautiful or #1 Cheerful or #1 Hospitality - you get the picture. If you're after careful, respectful, considered service this place probably isn't for you. If you're after frantic, fun, cheeky service to go with your food, then get yourself to Eiji.
Bookings are essential as it's well loved by the loyal locals. On the Wednesday night of our visit, the only table we could secure was for 6pm and we were told we'd have to be out by 7.15pm. To get us started, we ordered a Japanese beer each and a bowl of steamed edamame (green soybeans) which were tender and deliciously salty. I have a checkered past with these. I once embarrassed myself on a date attempting to eat them whole, not realising that you're supposed to use your teeth and fingers to squeeze the beans out of the pod and discard the tough pods.
Often a menu with photos can spell trouble in my book but not so tonight. The images encouraged us to try a few dishes that we may not have ordered otherwise. All the usual bases are covered - sushi, sashimi, tempura, udon noodles, curries- as well as some slightly gimmicky, but authentic, dishes that are fun. One such dish is the Ishikari Nabe or "Paper Pot". This is an intriguing contraption consisting of a basket with a paper mould lining that sits over a small burner. The "paper pot" contains salmon, vegetables, tofu and a broth, of miso and butter in this case. Incredibly the paper doesn't burn so long as there is liquid in the mould, but as soon as the soup dries up, the paper bowl "starts to burns up" we were told. The flavours were clean and nourishing and we happily slurped our way through it. The next hero to our table was the heavenly chicken miso katsu - a succulent chicken thigh fillet, crumbed and fried then doused in a tasty, nutty miso glaze and served with finely shredded cabbage and mayonnaise. This dish was out of the fryer and onto our table within seconds ensuring that we enjoyed the crisp coating and succulent chicken fillet at its best.
Now my dad has a tendency to over-order and I, surprise surprise, have a tendency to overeat, so despite the generously sized servings we went on to order another round of dishes: seafood sashimi - an artfully presented selection that featured snapper, salmon, tuna and scallop ("fresh and very good quality" declared Father) - and mixed seafood and vegetable tempura - barely battered, fluffy and crisp and not a hint of greasiness about it. Tempura as it should be. We also enjoyed a few items from the huge selection of kushiage - skewered, breaded morsels of vegetables, meat and seafood. These were cooked to perfection and served with dainty mounds of grated radish and dipping sauces.
Our meal was repeatedly punctuated by another of Eiji's quirks. As each table of guests exit the restaurant all of the staff let rip with a chorus of "Domo arigato" (thank you) at high volume. Dessert options are on the blackboard and feature some that you'd expect from such a place (green tea ice cream) and others that were more surprising, such as the tiramisu from the Italian restaurant next door. Everybody loves good neighbours.
However it was 7.15pm and our time was up. So we exited to the loud and harmonious chorus whereby both father and daughter proclaimed in unison - it's cheap, delicious and, number one, cheerful!