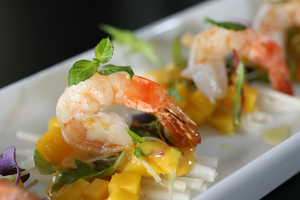 We arrived at Pure on Jervois Rd with high hopes. Our children, who live nearby, had been there before and loved the feel of a true neighbourhood restaurant where the menu rotates every week or so to reflect what's around at the markets. Their friends enjoy it too. So we slid into our bank-like seats against the wall one thoroughly dismal Friday night, prepared to be thrilled.
We weren't the only ones. Even in these troubled economic times, Pure was full. Many were locals, others imports from the eastern suburbs looking for a little adventure on the wilder side of town. They weren't about to get it.
The menu was short, as expected, but we had no trouble choosing a selection that covered the bases until the waiter arrived to take our order and tell us that both fish choices were unavailable. Although it wasn't surprising given the weather, what was surprising was that we had not been told earlier. The three of us who had decided on the hapuku and kingfish and chosen entrees to suit had to start again. It wouldn't have mattered so much if the replacement fish was similar, but salmon and tuna? Irritating as it can be to sit through a recitation of specials and menu changes, this was out of line.
On the other hand, as our companions who live a five-minute walk down Sentinel Rd reminded us, this is a neighbourhood restaurant which prides itself on a short but constantly rotated menu. But, as we gently reminded them, it is also only a five minute drive from Queen St and they charge city prices.
Five minutes later all was forgiven as we tucked into the complimentary "home baked" bread and butternut foam. Our main courses arrived quickly and perfectly cooked. The roast duck ($33) was a standout: succulent and just rare enough for comfort as was the pork, ($31) which was the most tender and rare I've tasted.
Apparently Pure chefs cook their meats in a wood-burning oven out back and it shows. But and it is a big but for someone wedded to simple, authentic tastes maybe the food at Pure is a bit too pure.
My pork was served in four thick slices over some excellent mash, drizzled sparingly with a thicker-than-usual jus. The meal could have been saved if the meat had had a decent whiff of wood smoke, but it didn't. In the end it was just too pure to endure after the first slice. You know you're needing excitement when the high point of your meal turns out to be the crunchy, nutty-tasting morsels sprinkled over the mash.
Ditto the duck. Beautifully cooked but dreary. Ditto the venison and seared tuna ($31). As happens too often, the entrees were the most creative part of the meal. The prawns arrived in a long row: pretty, plenty of them and delicious with it. The porcini soup with sweetbreads ($11) was fabulous: dark, thick and strongly seasoned, though Brian felt cheated by the sweetbread which arrived, wrapped in a square of ravioli, and served on the side.
Also the Serrano ham salads ($18 each) were excellent, as were the shot glasses full of complimentary apple sorbet to cleanse our palates before our main courses. A nice touch.
The wine list is not so short with plenty of interesting new world choices among the locals and classics.
Although the desserts looked good they were disappointing too. For example my apple trifle ($13) which looked a dream of whipped cream and custard in its fancy glass was disappointing. The crunchy crumble topping was plain hard and the custard below watery rather than thick and creamy.
Brian, who usually adores such concoctions, found the chocolate creme brulee ($15) neither one thing nor the other just enough brulee topping and not chocolately enough underneath, though the non-chocoholics loved it. The lemon tart ($13) with its flabby pastry, also failed to impress.
Worst of all, as the night wore on the service became more and more peremptory. Our waiter interrupted conversations, asked us to pass her cutlery and was generally intrusive. This was a bad night for Pure which, by all accounts, usually puts on a better performance. We will certainly try it again.
WHERE: Pure, 186 Jervois Rd, Herne Bay (09) 360 0714
OUR MEAL: $415 for six entrees, four main courses, two sides, three desserts, a bottle of Renato Pinot Gris and one of Cape Mentelle.
OUR WINE: By the bottle, $42-$70 and by the glass, $9.50-$17.
VERDICT: A classy neighbourhood restaurant that could be great with a little more attention to wait-staff, herbs, spices and sauces.
OUT OF 10
FOOD: 7
SERVICE: 5
VALUE: 6
AMBIENCE: 7