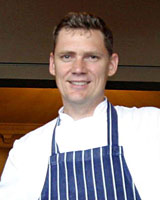 Wendy Hart, Geoff Scott, Kate Sylvester, Sid Sahrawat and Cybele Wiren share their thoughts on things which make life that little bit better.
Wendy Hart
Owner of Flowers after Hours and Moss
1. Ranunculus. They don't smell but they're snowy and have such texture. Plus, they're not round for long, which makes them special.
2. The lovely scent of gardenias and tuberoses in summer. That's a long way off though. Right now, a hot chocolate at the market makes me happy on these chilly mornings.
3. Being part of people's romantic gestures and good and bad times. Every bouquet is an artform of some description but some more than others. We had a man send out 350 white roses, at a cost of $3500. It was quite impressive - a massive bouquet. Unfortunately, we never did find out exactly what it was for.
Geoff Scott
Vinnies chef and owner
1. A piece of fresh snapper. Quite often, unless you catch it yourself, you always get something that's a little tired and sad looking, but when you go to the fish market, supermarket or have it delivered at the restaurant and it's fresh, it's great.
It's more about being able to pass that on to the guests at the restaurant.
2. My wife's home-cooking. When my wife pulled a zucchini, tomato and aged cheddar quiche out of the oven, as she did yesterday, it's the sort of thing you could photograph and put in a book, and she did it with a child on the hip. I was just about to go to work and it was totally unexpected and simple. There was none of that flash chutney on the side.
3. Good company. I celebrated a big birthday a few weeks ago and we got the old barbecue table and dining room table and joined them together to run across the room, then got all my brothers and sisters together - and I come from a huge family - and cooked lamb shanks for 14. When I'm at home I don't like to cook, but it comes down to having friends and family around the table. It's not just the food, it's the company.
Kate Sylvester
Fashion designer
1. Layering up. Summer is about keeping it simple, but in winter you can really build an outfit. One day I did five layers, from pretty slip all the way to hooded coat.
2. One night recently 'Little Red Riding Hood' appeared out of the darkness on Ponsonby Rd and it was such a thrill to see our very own red cape translated from catwalk to street.
3. Sitting in my corner office, cozy and warm, working on my collection for next winter while watching glorious storms roll in all the way from the Waitakeres. Doesn't get any better for inspiration.
Sid Sahrawat
The Grove chef
1. Experimenting in the kitchen. Working with new flavours, products, techniques and textures. The end result is so rewarding.
2. When my team shows the same passion and commitment to producing good food. Working in a busy kitchen and seeing the customers and [owners] Michael and Annette Dearth happy.
3. Good suppliers make a big difference, especially those who go out of their way to give me something different. Consistency makes me very happy. Changing dishes seasonally keeps it more interesting.
Cybele Wiren
Fashion designer
1. Wearing bright colours to brighten up grey days. A favourite is my Victory jacket in electric-blue nylon because it is not just bright but super-warm too.
2. Having a whole new summer wardrobe all ready to go and the thought of warmer days coming real soon.
Angela Redfern
Ripe Deli
1. When I walk into Ripe in the morning and there is a buzz in the air created by the wonderful people I have working with me, our loyal customers and the sight and smell of delicious, tempting food everywhere I look.
2. Trying out new products as they come on the market. We have had a lot of fun with quinoa since we discovered it, and have started using karengo in salads lately - it's so highly nutritious too, which is a bonus.
3. The changes in season Funnily enough, cooking and eating soups, stews and famous classic winter puddings at the moment makes me happy and I always look forward to when food such as asparagus and raspberries come into season, when they are ripe and at their best.