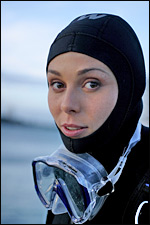 On the set of local drama Orange Roughies, a brothel is about to explode. Sort of. Actually, it's not a real brothel but a hole in the wall of a decaying South Auckland freezing works.
When the bomb goes off, the actors are going to fly through the air and land on mattresses. As for the rest of us, we're either going to get a first-hand insight into TV pyrotechnics or a sudden lack of eyebrows.
There's a loud bang, a surge of intense heat, a soaring body - then it's over. For Nicholas Coghlan, an Aussie who plays Detective Sergeant Danny Wilder, this is nothing.
His character is part of an elite task-force - its nickname provides the programme title - of undercover cops and customs officers whose job is to stop people-smuggling, drug trafficking and passport fraud. And that means the action swings from the seedy and sometimes exploding heart of Auckland City to the sparkling and at times choppy waters of the Hauraki Gulf.
"I got ill sitting on the boat, waiting," he says. "I'm not very good with motion sickness. I get sick in the back seat of a car."
It's not the only fiery moment in the script. Episode one features that classic Hollywood scene of the baddie calmly walking away from an expensive car before it bursts into flame.
"Sure there's explosions and gunplay," says the show's key writer, Scott McJorrin. "But there's also a great deal of human trauma and fun and everything you find within law enforcement we've tried to portray on the show. I don't like cardboard cut-out heroes."
Much of the show is based on McJorrin's own experiences as an undercover cop and working in covert surveillance,egka on cases that include the Operation Rocks heroin bust, the Theresa Cormack homicide and a minor role in nabbing the Rainbow Warriors bombers.
It was a job of extremes, characterised by moments of flat-tack action and drawn out by long periods of waiting. It was those boring hours sitting, watching in parked cars that inspired McJorrin to write about his experiences. He has since written episodes for Interrogation and two episodes for upcoming police drama, Ducks and Geese.
Acclaimed local TV writer Greg McKee approached McJorrin with the idea for Orange Roughies, a show about an under-funded, under-resourced inter-agency where the protagonists have to rely on their street - or sea - smarts to survive, and he developed the idea with co-writers Rod Johns and Kirsten Warner.
"Coming from a police background, I'm not satisfied with storylines or plot twists that I found insulting or are not credible," says McJorrin.
"I like to see things explained for a reason. New Zealand audiences haven't been given the due they deserve on TV. Audiences are treated as fairly ignorant. They deserve better."
Real life
American shows like CSI have "huge credibility gaps" he says, whereas Orange Roughies portrays the technology and policing techniques that take place in real life, not to mention the instantly recognisable locales.
Although realism is the key to the show's success, most inter-agency law enforcement agencies in New Zealand are formed on a case-by-case basis rather than a permanent task force like the one on Orange Roughies. But McJorrin wouldn't be surprised if that's the way we're heading.
Though the content might sound heavy, the characters bring a sense of humour and warmth to the show. Meet Navy-trained diver Detective Sergeant Danny Wilde, (Coghlan) the rugged, alpha-male of the show, who gets a moment of comic relief when his first interrogation involves threatening a baddie with a dildo (it's not what you think).
"Danny is a fairly serious, damaged soul," says Coghlan. His wife passed away 18 months prior and he's left with their only child. He's a good dad but he's very serious about doing the right thing.
"He's a ruthless cop, the kind of person who believes in doing whatever it takes to do the right thing. On the other hand he has a dry wit and he and his colleagues have a good time."
Despite an aggressive run-in with senior customs officer Jane Durant (fellow Aussie Zoe Naylor), who has a masters in criminal psychology and looks hot in a wetsuit, the pair share a Mulder and Scully-type chemistry.
"Jane is an action-based woman, she's intelligent, she's sensitive, she's strong-willed," says Naylor, (McLeod's Daughters), who is feeling revved up after performing her "best Baywatch impersonation".
McJorrin acknowledges there might be local actors upset at two Aussies playing lead roles in a Kiwi drama series. But says it was a matter of who was best for the role.
The other half of the force is Detective Constable Zack Wiki, (Mark Ruka) who is struggling to convince his wife he's not going to return home one day in a body bag. Detective Constable Tom Bowden (William Wallace) is the live-wire with a dirty secret who will do almost anything for success - breaking the law included.
Presiding over the foursome is Superintendent Ron Maddock, whom actor Stephen Halls likens to "a border collie with irritable bowel syndrome", who insists Danny take young-gun Noel Bullerton (Nick Kemplen) under his wing.
McJorrin wanted to make the villains and side characters just as interesting. Enter Shortland Street, and Street Legal alumni including Ingrid Park, Roy Snow, Blair Strang and Katharine Kennard. He wouldn't be surprised if some of his former police mates recognise elements of their personality in the characters.
But they're not the only ones. "A lot of the criminals I've dealt with are fascinating human beings. They're captivating. I hope we've managed to portray some of that on screen," he says.
By Rebecca Barry Hill

Email

Rebecca