An expert analysis of her handwriting sample shows up some areas to improve for Gill South.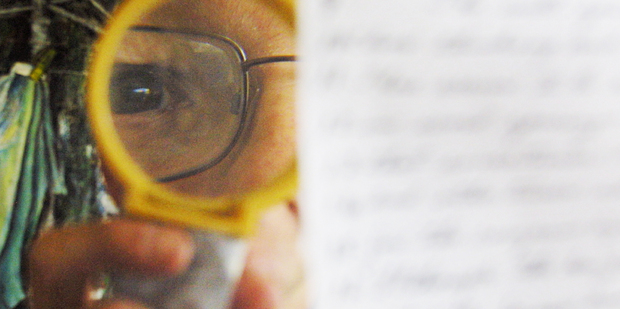 Well I'm not sure if I like myself very much. Or the me that is described by a graphologist after he's analysed my handwriting, that is.
This Gill is "bound up with retaining as many material possessions as she is able", says Mike Maran. She always looks for the down side in every situation, looking for the flaw. I strongly dislike having to change my plans, preferring to have others adapt around me (well don't we all?).
Handwriting analysis was first started in earnest in the 17th century by European monks, Mike tells me. Elaine Quigley, the chair of the British Institute of Graphologists, describes graphology as "brainwriting". A person's handwriting - the script - and its placing on the page express the unique impulses of the individual.
Mike is looking at the way my words slant, the way I dot my "i's," the spaces I leave between words, all these things are indicative of my personality.
He has gleaned the fact that I am strongly independent from all the space I left on the paper in my written note. I was trying to help the poor man decipher my headache-inducing scrawl, but okay. The way my left margin goes in and out is a sign that I go through money rather fast. Ahem. The slant I write on means I look forward to the future and am sympathetic to other people's needs.
In the two and a half page report on my character, there are a few contradictions. Mike says that there is a 10-20 per cent possibility for error. Those close to me reckon he's got it about 50 per cent right. For instance, in Personal Dynamics, it says "no matter how well things are going, she will find a flaw somewhere".
As someone who thinks of herself as overly upbeat, this is a bit odd. However under Defences & Controls, I apparently "maintain an optimistic outlook and stay on a fairly even keel. When emotional conflicts arise, she is able to handle them with aplomb."
That's more like it.
This next bit makes me giggle. "Her uninhibited style suggests that she may either be rebelling against a strict upbringing or there were no rules to follow, leaving her to figure out her own boundaries." Not sure what my parents would make of either of those.
But he's got me here: "Her force of will keeps her striving until she gets where she wants to go, never deviating for a moment." Aha, that's me.
A red flag for me to look at in my life, meanwhile: "Although she may rush full speed ahead into a new situation, she is likely to suddenly put on the brakes and call a halt."
Friends will no doubt think of when I put my house on the market for seven days this year.
As for my vitality and energy levels, I am "constantly on the go" and have a restless nature, it seems. I am energetic and need to be where the action is (well, I used to be like that, quite like a night in now). "With her fairly short attention span, she shifts projects and subjects easily to accommodate what she feels is most urgent at the moment." Yep, got me there.
Mike says to show the report to family and friends. I may think that a comment is not in character, but they may get it. Sometimes people are in self-denial, he says tactfully.
Next week:
I'm involved in a world-first activity class. It is Aqua Pilates, run by experienced Pilates teacher Heather Stewart, at Next Generation Auckland Domain. We are all learning as we go.