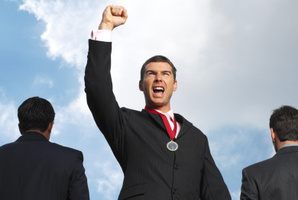 Now that all the naughty ladies have control of the earth, men are staging a revolt. They're doing this by not going to university, not marrying, and working in low-paid jobs. Some of them are refusing to work at all, in protest against the government's secret plan to give ALL the tax dollars to women.
That's the thesis of Male Strike: Society's War on Men, a new book that makes me want to stab my eyes out so I can never be tempted to even peek inside its pages, ever. Its author is men's rights activist and psychologist Dr Helen Smith, who calls this imaginary male revolt "Going Galt". (Inspired by the Ayn Rand novel Atlas Shrugged, in which a character by the name of John Galt leads an industrial strike against exploitation.)
Smith, who writes for ultra conservative blog network PJ Media, believes "The government and the politicians work in cahoots with women to extract money from men." And that this secret money pilfering has resulted in a "...whole political system based on women having special privileges, and the more privileges they have, the more entitled they feel." She says women consume 75 per cent of healthcare in the United States, treat fathers "like ATMS", and spend taxpayers' money on organisations staffed by activist women.
You'll need to read this 'article' - in which Smith is interviewed by fellow conservative Charlotte Hay - to fully get your head around the "male strike". In the meantime, just know "a man's rights go only as far as a woman's honesty." And that "men are discriminated against in ways that women can't understand ... One reason women promote the war on women is that many of these women have degrees in such things as women's studies and hold academic jobs." (Whaa? I don't know.)
Male Strike: Society's War on Men follows hot on the heels of recent literature about the rise of "perpetual adolescence" amid men in their 20s and 30s. In particular, a controversial book released last year called Manning Up: How the Rise of Women Has Turned Men into Boys. (You'll find an extract here.) In Manning up, author Kay Hymowitz claims women's rise in the knowledge economy has had an emasculating effect on young men, turning them into Peter Pans who now lag behind in all sectors of life.
But, "what Kay Hymowitz calls the perpetual adolescence of men is just men understanding that the cards are dealt against them," reckons Dr Smith, Chum of Men. Except she's hardly doing men any favours either, painting them as vindictive saps hell bent on self-sabotaging to avenge the world's women. Even if we have rearranged the "system" so Man Dollars fall in our harlot laps, as we swan about in search of ATMS. I mean men. Muhahahaha...
Follow Rebecca Kamm on Twitter.