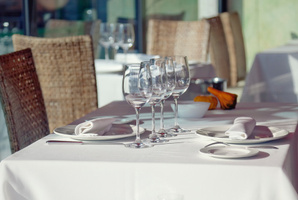 It was cold on Saturday and we decided a hot curry for dinner was just the antidote required. My significant other telephoned to book a table at an Indian restaurant in Parnell. We're embarrassingly early diners and there was only one table occupied when we arrived so we had no expectation that finding a satisfactory table would be a challenge.
The restaurant had opened up its entire street frontage and borrowed some of the pavement for extra tables. Transparent plastic awnings provided shelter from the elements and patio heaters burned orange. When asked, we advised that we'd like to be seated as far away from this outdoor area as possible. I might have had my faux fur Topshop coat on but I still didn't plan to sit outside in Auckland in mid-June.
So we were given a table at the rear of the restaurant close to the kitchen. It only took us a few seconds to realise we were under a large and noisy air-conditioning unit. I hate asking to move tables at restaurants and I can't even remember the last time I did. It sets the evening off to a bad start and makes you look fussy from the outset. But the machine was intrusive enough and the restaurant was empty enough that it didn't seem unreasonable to request a move.
But apparently the only other table for three was in the outside area at the front. Thinking it would nonetheless be a better option we sat down - and discovered it wasn't. The footpath was sloping so the table and chairs didn't sit evenly. A cold breeze whizzed about our ankles and the noise of traffic on Parnell Road was amplified. The protective plastic was claustrophobic and the patio heaters were uncomfortably close.
We refused the second table. The maitre d' offered us a third table just inside but it was only a table for two and it was still close to the chilly outdoors. Just as importantly, we weren't going to be able to fully relax here after being such high maintenance customers. So we left, apologising for being so difficult.
The penchant of Auckland restaurant owners to make their customers freeze has long been a bugbear of mine. Years ago I used to enjoy pizza and Deutz at a Mission Bay bar called Bikini. On every occasion, even in the middle of winter, its doors would be wide open and we'd have to plead for them to be closed.
Eventually they would be shut but the accompanying reluctance betrayed the fact there was an agenda attached to these open doors; they were, of course, intended to entice passersby into the premises. It always rankled to realise that the comfort of existing customers was being sacrificed in the hope of attracting new ones.
It's time local restaurateurs and bar owners recognised that we don't have a tropical climate. We're not in Fiji or the Caribbean. In Auckland there's usually only about one day in February that I'm happy to sit outside much after 8pm. Sometimes the combination of plastic shelter and patio heater is well executed but all too often it's just not an inviting environment. What's the point of acquiring extra floor space if the experience is disappointing?
For the record, after our failed dining attempt on Saturday we adjourned to Satya on Great North Road where our craving for curry was answered. And although there was a slight chill in the air, all the tables were inside and the front door was firmly shut - and for those two blessings I was truly grateful.
Do you approve of this obsession with alfresco dining whatever the season? Does sitting outside in winter leave you cold - or should the rest of us just harden up? And what's with open doors in the middle of June? How can that be right?