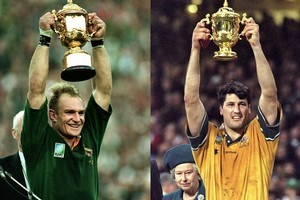 South Africa lifted the Cup in their first appearance in 1995 before Australia became the first nation to win it twice. Photo / Getty Images/AllSport
With the 2011 Rugby World Cup less than a month away, the Herald looks back at the past six tournaments in a three part series.
The latest edition looks at the 1995 and 1999 tournaments.
1995:
Video: Great World Cup moments - 1995
Setting the scene: The drop goal that helped heal a nation
Doubt and drama on road to '95
Shine of top ref's gold day marred
Tournament action: Springboks' first time unites divided nation
The outcome: Mandela factor unified an emerging nation
How we won it: South Africa - Magic of coaching a world-class team
All Black memories: 'We had the weapons to win it'
Tournament star: Jonah Lomu - The try scoring blitz
Legendary characters of the World Cup
1999:
Video: Great World Cup moments - 1999
Setting the scene: Big shift when the game turned pro
Tournament action: Sacre bleu! France demolish All Blacks
How we won it: Australia - 'Trust gave us belief'
All Black memories: 'In reality we were a team of individuals'
Tournament star: John Eales - King John's coronation