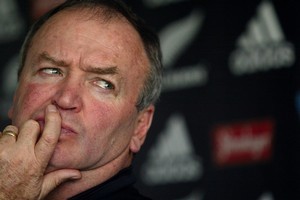 Samoa did not get past round-robin rugby in the 2007 World Cup, but homage had to go to Brian Lima, the sinewy young speedster of 1991 who had developed into a muscular package of destruction to play in his fifth tournament.
The explosive teenager from 1991 was now 35 years old and about to set a record for himself and his proud island nation.
Quiet and reserved like many of his countrymen, Lima was an outstanding athlete whose five-tournament feat may never be equalled and certainly not beaten.
England had slipped, winning fewer than half their tests since their Sydney triumph in 2003, and discovering how tough international life was without rumbustious captain Martin Johnson and frequently injured talisman Jonny Wilkinson.
They were without Clive Woodward who had organised England within a centimetre of their lives before they disintegrated after his departure.
No side had won successive World Cups and consistently poor form from England against the Southern Hemisphere suggested they would struggle to get out of the quarter-finals.
Beaten finalists from 2003, Australia, were playing some fairly stodgy rugby under new coach John Connolly. It was the sort of low percentage stuff he had used with Queensland. They looked out of rhythm, they were the least impressive of the Tri-Nations, but they had looked like that before and during other tournaments - 1991 and 1999 - and won both.
The Wallabies had gamebreakers like Matt Giteau and Stephen Larkham but repeated scrum struggles looked to be a restriction on them claiming a third crown.
Hosts France were still being guided by Bernard Laporte and had the advantage of home crowds and the feeling that decisions by referees favoured home teams.
Laporte had pared away some of the frilly edges in the side, deciding defence and steadiness were better weapons for a World Cup than thrilling flakiness. He wanted Damien Traille to kick more, to pound the rival defences with towering bombs instead of having players flick the ball through their hands as the public wanted.
The team gained some sense of hope the year before when they won in South Africa for the first time in 13 years but then they were slaughtered at home by the All Blacks.
Wales were going through their win-loss routines, Scotland were even worse while Samoa had slapped their neighbours Tonga but then been seen off comfortably by the Springboks.
A year shy of the World Cup the Irish had beaten the Boks and Wallabies in successive rollicking weekends which prompted celebrations to match those after Rory McIlroy's US Open triumph.
Coach Eddie O'Sullivan was still in charge and knew what was needed. He had some backline quality with Brian O'Driscoll, a goalkicker in Ronan O'Gara, and forward clout from Paul O'Connell, Neil Best and Denis Leamy.
They faced a tough pool but, if they won that, they avoided the All Blacks at quarter-finals and would likely play Scotland.
Former schoolteacher Jake White was now coaching the Springboks but he needed all his shrewdness and some helpful mixed political clout to survive the sporting traps which infest South African life.
They were winning about 65 per cent of their tests but crucially for their psyche, they were shelling regular defeats to the All Blacks and Wallabies and that pattern continued just months before the tournament.
Argentina would always bring a rugged scrum, driving forwards and a kicking five-eighths. They were occasional international opponents and that mystery made them an awkward foe for the top-flight nations.
Many of their players were based in France and would be comfortable with conditions and well led by the feisty halfback Agustin Pichot.
Within hours of the All Blacks 2003 semifinal loss to the Wallabies, coaches John Mitchell and Robbie Deans knew they would be shifted on and not long after that the public got the same vibes as NZRU officials made their pronouncements.
Enter Graham Henry, Steve Hansen and the recycled Wayne Smith to the coaching panel, and Tana Umaga as the team's first Pacific Island skipper.
They chased a variety of ideas, creating all sorts of initiatives as they sought to unlock the mysteries of the All Blacks' continued inability to claim the World Cup since the first tournament.
Players were sifted and weeded out if they were disruptive, the leadership group was widened and players' life skills broadened.
The day he was anointed, Henry said he wanted to create an intelligent side, one with leaders who could make the right decisions under fire.
"We have got to produce a rugby-smart culture, because at the end of the day brains beats talent," he added.
By the end of year one he must have wondered what he had promised. The All Blacks had sagged in the Tri-Nations and lost comfortably to the Boks and Wallabies. They were nowhere near the standards of the previous year under Mitchell.
Strategies and selections had to alter, the leadership group had to be extended, the players had to be empowered more instead of being foot soldiers for the coaches' ideas.
Those ideas worked during the series whitewash against the Lions in 2005, where the All Blacks were blessed with the imperious form of Daniel Carter and the sting from a reconfigured pack.
Most of the backline were experienced but the pack had to be rebuilt. It came to fruition midway through the Tri-Nations with a Woodcock, Mealamu, Hayman front row, Williams and Jack in behind with So'oialo, McCaw and Collins in the loose.
The Grand Slam was collected though it was a great struggle against the suffocating power of England. The trip was Umaga's farewell from internationals and, despite Henry's entreaties, the captain could not be dissuaded.
McCaw took over as captain and the expanded strength of the All Blacks was displayed when separate groups were picked to do battle in New Zealand then away to Argentina. A dozen tests were won that year around the globe and just one slid away when, with the Tri-Nations series won in South Africa, Henry and Co picked a new crew to play the final test in Rustenburg.
They were sloppy and disconnected and fell to a 20-21 defeat against an average Bok side. However another trip to Europe, including a glorious 47-3 roasting of France, had them back on track. Or so it seemed.
Many foresaw triumph in 2007, but there were rumbles of discontent from the time prospective All Blacks were peeled out of the Super rugby series for reconditioning. That mixed selection pattern carried on as 34 players were interchanged for domestic and Tri-Nations tests.
While the concept grated for many, a solitary loss to the Wallabies was hardly the end of the world.
But if the coaches persevered with the selection rotation at the World Cup, would that campaign end in tears like four others or joy like 1987?
2007 in the news
In the year Apple releases the iPhone, Big Girls Don't Cry by Fergie is No 1 as the World Cup kicks off, but Beyonce's Irreplaceable was the biggest hit of the year.
February 8 Anna Nicole Smith is found dead after an accidental drug overdose.
May 30 Folole Muliaga dies after the power to her Auckland home is disconnected by electricity company Mercury Energy for failure to pay her overdue account. Mrs Muliaga was dependent on an oxygen life support machine.
June 21 The Solicitor-General announces that David Bain, out on bail after the Privy Council quashed his convictions for the May 1995 murder of his family and siblings, will face a retrial in 2008.
July 21 The final Harry Potter book, Harry Potter and the Deathly Hallows, is released.
August 25 Police arrest 69 people after Undie 500 student riots in Dunedin. New Zealand tops the Transparency International Corruption Perceptions Index as the least corrupt country.
2003
Video: Great World Cup moments - 2003
How we won it: England - A bloody-minded band of brothers
Setting the scene: Mitchell at the helm as England rises
Tournament action: Four more years - the tournament goes on
Tournament star: Martin Johnson - Hard leader of the pack
ABs memories: 'Danger of World Cups is they mean so much'
2007
Video:Great World Cup moments - 2003
How we won it: South Africa - Python applies squeeze
Setting the scene: Henry gets his (first) go at the title
Ref's contentious calls leave nation seething
Tournament action: Boks hold nerve in a Cup of big upsets
Tournament star: Agustin Pichot - Skipper who shamed IRB
ABs memories: 'It was like slow strangulation'
2011
Looking ahead:High stakes in road to redemption
Hold heads high whatever the result
World Cup highlights