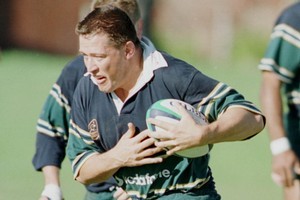 Australia's 1999 World Cup victory is a bittersweet memory for Phil Kearns.
Injury forced the legendary Wallaby hooker out of the tournament prior to the sudden death stage so he was a bystander as the Wallabies beat Wales, South Africa and finally France, in Cardiff, to become world champions for the second time.
Luckily for Kearns, he has memories of the 1991 World Cup triumph to fall back on and he sees many similarities between Bob Dwyer's camp and the way Rod Macqueen organised the 1999 campaign.
Kearns, as Macqueen has done, points to the strong vein of experience in the 1999 squad as being crucial, something the coach utilised to appoint leaders with responsibilities in very specific areas of the game.
As is often the case with Australian teams, there was an intelligent approach. This included a last minute change of emphasis as the think tank discovered that new rule interpretations meant teams dominating possession were often on the backfoot. In rugby's ever changing landscape, defence was now the key platform, and this Australian side changed tack and played the percentages..
A central theme, Kearns believes, was a healthy atmosphere, a mix of personalities, and the ability to enjoy the World Cup experience for much of the time while being able to fire up for the job when necessary. "We certainly didn't need anything like a curfew and the players would go out together or in groups, enjoy a bottle of wine between them and mix with the locals" said Kearns, recalling the 1999 experience.
Maybe it is no coincidence that both of Australia's World Cup victories have come in Europe, where the players were free to move about in relative anonymity. They also went into the 1999 tournament in exceptional spirits.
Kearns says: "We'd had a 3-0 Bledisloe Cup victory that year - I don't think that had happened for about 400 years. So we were in a very confident frame of mind. I think that when players are relaxed they are able to make good decisions under pressure."
Exhibit A: Stephen Larkham landed the first drop goal of his career, in extra-time, to break a semifinal deadlock with South Africa at Twickenham.
This was an infamous match in one respect, with no tries in the 27-21 scoreline. In keeping with this, Larkham, the wondrous Wallaby pivot who epitomised the best of ball-in-hand rugby, had to turn impromptu field goal kicker to win the game.
"He used to practise them a bit in training and we always told him how awful he was because he was," says Kearns.
"Yet he was still confident that he could pull out something like that in a high pressure situation, in front of 70,000 people with everything on the line. That was typical of the team."
Great teams need great players of course, and Australia had one in particular at the tournament. Tim Horan, the prince of inside centres, was in exceptional form. Whereas the 91 side had a few close shaves, Kearns says "just about everything went to plan" for the 99 team.
In terms of personalities, there was the full range, from quiet characters such as Larkham and Toutai Kefu to the crazy Nathan Grey.
"Nathan would come on during games and you'd see his eyes going round in his head," says Kearns.
"He'd play like that as well, which meant it was great to have him on your side and a relief that he wasn't on the other side. He was pretty wired off the field as well - a great guy."
Having younger players like Grey in the squad also raised enthusiasm levels - something Kearns believes is still vital in team dynamics.
As for Australia's outstanding World Cup record in Europe, Kearns believes it may be easier for some sides to succeed on foreign soil although he doesn't think this is necessarily so for the Wallabies.
"Rugby is not the number one sport in Australia so they don't face that intense pressure. In saying that there is much more all round pressure these days, including aspects such as the financial implications."
The inference is clear from one of Australia's finest rugby warriors - the All Blacks' ability to deal with the hometown pressure and stress will be crucial to their chances this year.
1999:
Video: Great World Cup moments - 1999
Setting the scene: Big shift when the game turned pro
Tournament action: Sacre bleu! France demolish All Blacks
How we won it: Australia - 'Trust gave us belief'
All Black memories: 'In reality we were a team of individuals'
Tournament star: John Eales - King John's coronation